Universal Volcano Bay must be the best Water Park in the World.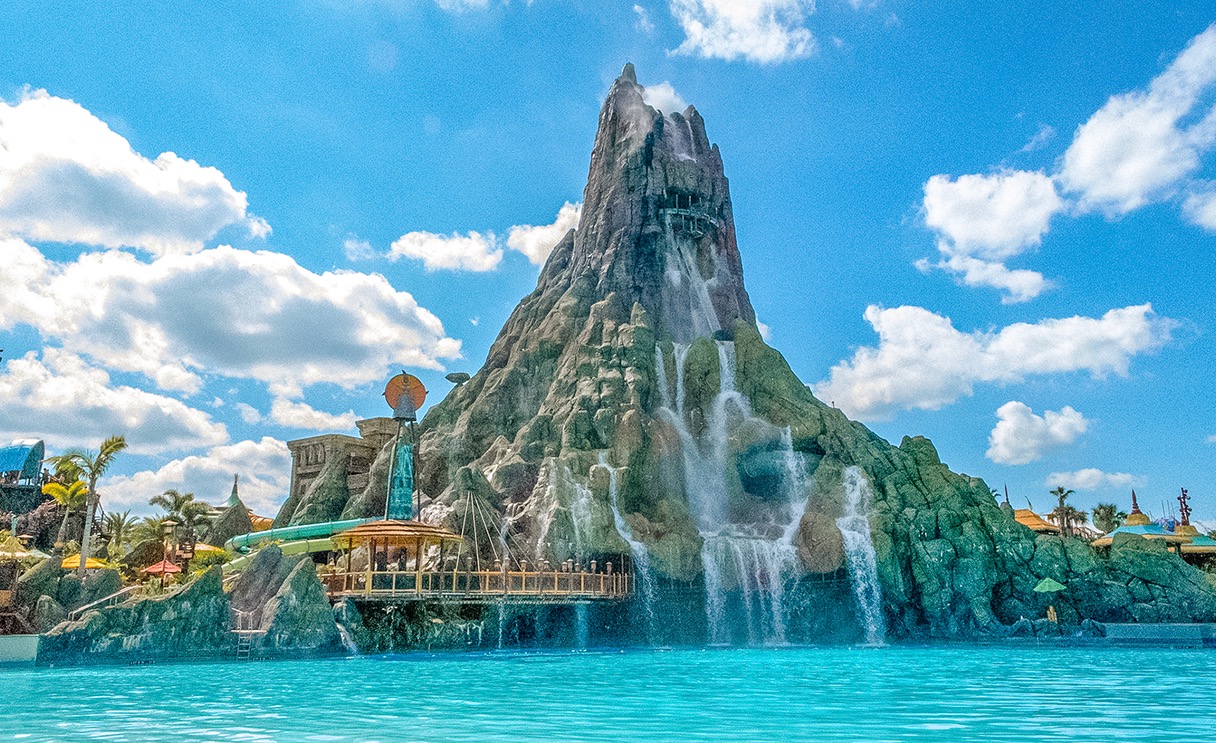 Universal Volcano Bay
As with everything new, Universal Volcano Bay needed bedding in, but since it opened in 2017, it has become known as THE water park destination in Orlando. It is a revelation in water entertainment and technology as it runs a unique virtual line system. Many are saying that this is not only the best water park in a state famed for theme parks but is the best water theme park in the whole of the US – so what is it that has the fans raving about this location? The best news is that it's only a few miles from Reunion Resort Orlando which took us only 25 minutes journey.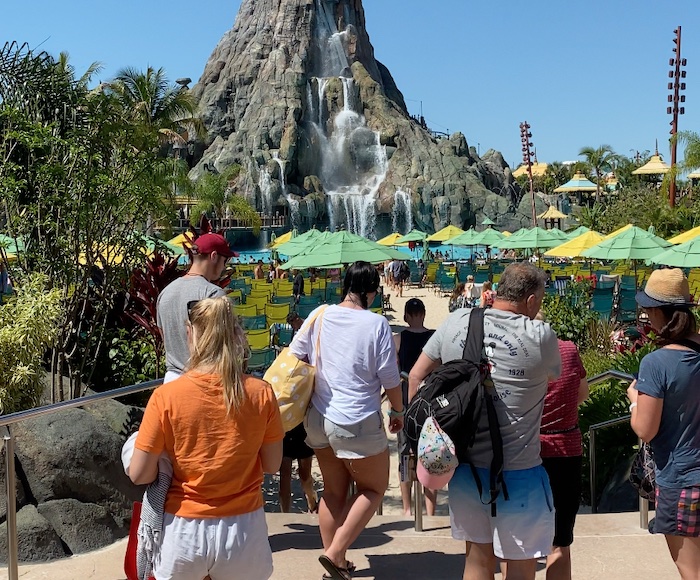 The Wearable Technology
On arrival, all guests are issued a wristband called TapuTapus, which offers the queuing system and other features such as a private locker that is only unlocked by the device on your wrist. So, onto the queueing system, one of the biggest bugbears of theme park life is the constant queueing to get on all of your favourite attractions. Over the years, Disney has experimented with various methods of cutting the line, but these usually mean paying more for things like FastPass. TapuTapus is not an optional extra, it is how the park runs and comes with every entrance ticket, and the most significant thing it brings you is freedom. You can explore the park and get on with whatever you fancy doing, and your wrist will alert you when it is your turn to get on any specific ride you have booked.
Universal Volcano Bay – Raft Slides
Volcano Bay is geared towards shared experience, so most rides are perfect for family or friend groupings. The raft slides are no exception and form 13 of the 18 plus rides. They offer a pretty hair raising experience so unsuitable for those who scare easily or don't have reasonable water confidence (frankly, if you are not a fan of splashing and water, this is not the adventure for you).
Some of the slides have rafts; others are body slides. Again, there is much variance in the drop levels, so you can choose depending on how brave you feel. You can plunge from the top of the volcano or decide to start your descent at a lower level. Younger family members have to be at least 42 inches tall, and even then, there will be some restrictions on the most daredevil of slides. There is plenty to keep them occupied though, if they meet this minimum height limit, they gain access to eight of the 13 slides.
So, Is Universal Volcano Bay Family Friendly?
Volcano Bay is a great family day out, but if you have toddler-sized little people in your party, you will likely need to miss out on some rides or take turns to sit it out with them. Have no fear; there is plenty of other fabulousness to entertain them.
As well as the 13 slides in Universal Volcano Bay, there are three lagoon-style pools, two winding rivers and two splash pads (which, let's face it, are perfect for toddlers). Also, make sure your non-potty trained little people have swim nappies on, as this is a park requirement.
As with all theme parks, there are plenty of outlets for food and drink, or you can bring your picnic. There are plenty of options for setting up camp and having a snack, and you can also hire a cabana for a more secluded and private space. It is more than easy to pass the day at the park, so plenty of food and drink is good if you want to stick to a budget. Still, you can certainly be assured of a good night as there is something about the combination of fun and water that leaves everyone thoroughly exhausted and ready for bed!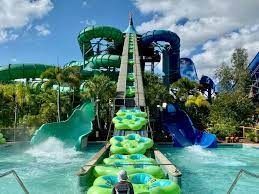 Head to the Beach
At the foot of the volcano is an artificial beach that forms one of the wave pools, but there are also plenty of deckchairs on offer if you fancy a bit of a rest and some time out. Once more, the height restrictions apply, and while kids of all ages are welcome, those under 48 inches must wear life vests at all times. Sometimes, the water is flat so kids can play quite safely in the shallows, but when you hear the drums, the horn and the gong, this is your warning that the waves are starting up, so time for non-confident swimmers to relax on the sand away from the water. For those who want to swim without the waves, then Reef is for you; this is a 5'6 depth watering hole that has no current, and if you like people watching, it is a great vantage point for watching people splashdown off the Ko'okiri water slide, and you get a great view of the waterfall too. This pool requires lifevests for those under 48 inches because it is deeper.
The Aqua Coaster
Perhaps the biggest headline ride is the Aqua Coaster, and this takes you on a fantastic trip around some of the park and passes in and through the volcano itself. The ride has rafts suitable for 2-4 people, and again, you can take those over 42 inches tall with you, provided they demonstrate they can sit up and hang on tight. Lifevests are available for all riders and are strongly recommended for youngsters. This is one of the busiest rides, and although there is no need to wait in line, because of the virtual queue, you should still book your place on arrival as you could be in for a long wait. If you are benched looking after a child that isn't big enough to ride, then head over to Tot Tiki Reef, designed with tiny visitors in mind. It has a range of small slides and plenty of splash pad fun.
The Winding River
Finally, when everyone is shattered, there is no better end to the day than a trip down the lazy river. Little ones should have lifevests and sit with parents, but it is a gorgeous ride and incredibly impressive at dusk. You will pass through a cave, laze under bridges and get spat on by the cheeky water tiki gods.
We hope you have a great day there but here is an article which will help you with the Volcano Bay Parking which I researched which I hope you find useful.
Update: Our trip was during the COVID pandemic but this was largely over by then and although we had to wear masks on the flight, we were not required to wear masks in any of the parks, including Volcano Bay.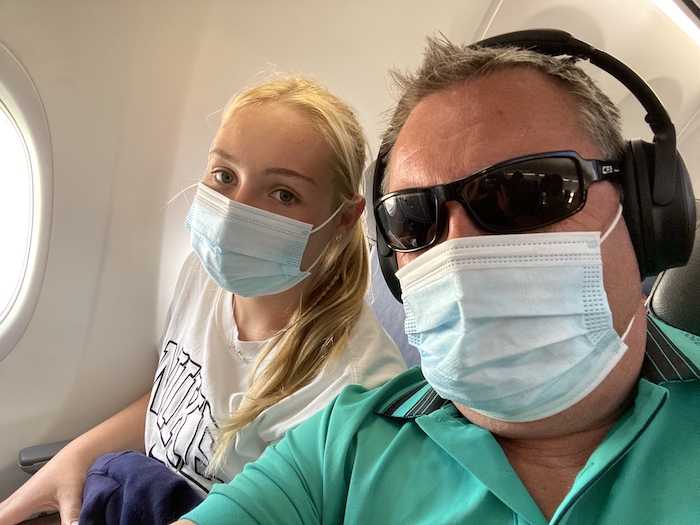 Author: Bethan Potts. Exclusive Private Villas Ltd.