About Champions Gate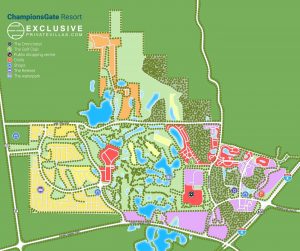 Champions Gate Orlando offers a luxurious collection of family villas in an a secluded Mediterranean-style resort. The resort is built into the idyllic Florida countryside just six miles (15 minute drive) from Walt Disney World Resort. This luxurious resort is home to an award-winning 1200-acre golf club . It has two Greg Norman– designed courses and a David Leadbetter Academy. You'll also discover 15 acres of pools and recreation with a lazy river and waterside restaurant. There's a free shuttle service to the parks  and it also acts as a taxi shuttle for various areas of the Champions Gate. In addition, there's a world-class spa and fitness centre.
Restaurants at ChampionsGate are numerous with a familiar cast of chain restaurants. Think Subway, Dunkin' Donuts and McDonalds! These favourites rub shoulders with various fine dining options. Discover Zen which is Chinese cuisine served along with Japanese Sushi and Sake. For Italian food,  it has to be a trip to Trevi's. Or for coffees and teas it's Morsel's. Or perhaps you might try some wholesome American fare at Croc's and Piper's.
The vast ChampionsGate resort offers an almost endless list of luxury amenities. Alongside the golf courses, spa and waterpark, you'll also have access to a long list of services. From real estate realtors and insurance brokers to independent dry cleaners and beauty salons. In addition, there's a bakery, a car wash, dentist, several banks and supermarkets.  For the sporty, there is also a tennis club with six courts, basketball courts, a football pitch and lacrosse courts.
Championsgate Villas Offer Perfection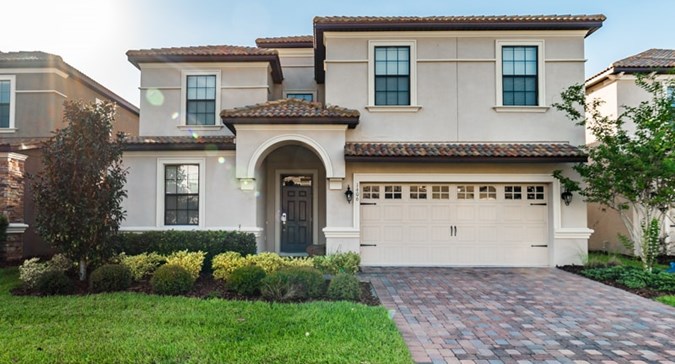 The Championsgate villas are like a world within a world. This gated wonderland is located right in the heart of Florida.  It's a natural choice for families, couples and those visiting the region for the first time. Behind the gates you will find a large yet perfectly structured village. You'll discover luxury villas, shopping, golf, water fun and more. There are regular shuttles heading into the four main Disney World parks. This means you can leave the rental parked on the private drive for most of the holiday. Furthermore, the airport is just 25 minutes away by car.
Luxury Accommodation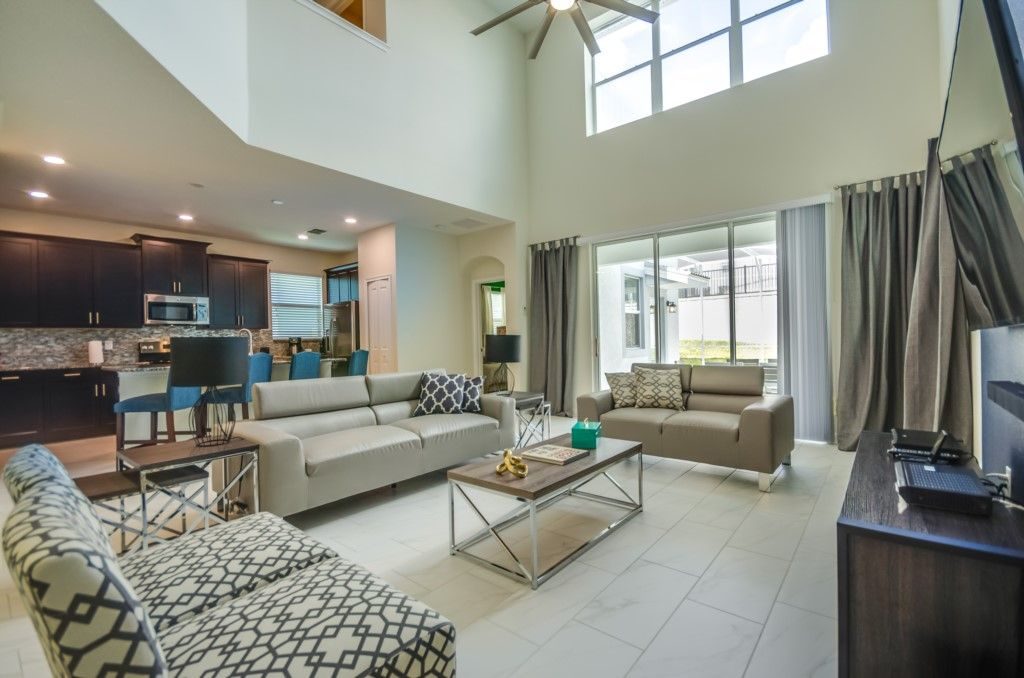 Nestled within the 1500 acre site, you will find almost 60 amazing villas. All offering luxury living with the liberty to come and go as you please. You can eat when you like and generally enjoy the opulence, as if you happened to own it ! Well if only for your week or two stays!
These high-class villas are packed with everything you could dream of. Think waterside and green views, balconies, stunning bathrooms and decor finished to the highest standard. Villas come in all sizes. Whether you are going as a family or sharing as part of a group you will find some fantastic villas on offer. Some feature games rooms and themed decor. Most have child-friendly features and offer things like cot and pushchair hire. This is one less thing to worry about. An option for multi families is to opt for a villa. We would recommend looking at our 4 Bedroom Villas for Rent in Orlando as a starter.
The Resort
This mini resort, set just a stone thrown from Disney also offers lots to see and do, should you wish to take a day off the chaos at the main resorts. There is a heated pool featuring a waterslide, a very well stocked health club, a spa offering all the most self-indulgent treatments and a fantastic 850-foot river. The river winds its way through the palms and has plenty to see and do along the way as you pass interactive splash zones, baby rapid and plenty of sports facility provision. Of course, if you are a golfer you can sink a few holes in one of the worlds most spectacular greens.
The Shopping
Without having to leave the resort, you will find at the village centre all the shops and facilities you could need. A well-stocked supermarket provides all your self-catering basics, and there is plenty of choice for eating out, including Millers Ale House and Chili's Grill and Bar. For those looking for a quick and child-friendly snack, you will find the obligatory McDonalds and Subway. There is a back, pharmacy, nail bar, dog groomer and more in this secret village hidden from the rest of the world.