Booking securely with ExclusivePrivateVillas.com
Booking your own villa online is often regarded as an extremely rewarding process. Not only can you browse through all the beautiful photos to choose your dream villa, you will also be reaping the huge savings by doing this yourself. So why book with us?
At award winning ExclusivePrivateVillas.com we are also on hand via the chat screen, on the telephone or via email. If you want an extra helping hand during your search, it's all part of our complimentary concierge service.
With hundreds of villas in our portfolio, you are in super safe hands. We are also able to offer our customers alternative accommodation (or even upgrades) in the rare circumstance there is a problem with your rental home.
We are often asked how secure booking a villa is and what the benefits of booking through ExclusivePrivateVillas.com is. So, we've put together a list of benefits and also a Booking FAQ which answers some of the most common booking and security questions we get asked.
Benefits
Handpicked villas by our specialists
Our villas are selected on the highest quality criteria. We give you peace of mind that you are booking one of the most beautiful and highest standard villas in your destination. Our villas are all regularly visited and inspected by our own team. Therefore we only work with villas that meet our exceptionally high standard.
Strictly no private hosts
Nobody likes surprises when going on holiday so we only work with the sole management agents for each of our villas and never just with villa owners. This policy means we can uphold our strict high level of standards consistently across all our properties. It means that your villa will be prepared to the highest standard upon your arrival.
Lowest price guarantee
Working only with the sole management agents on the ground, we are able to offer the best genuine price to our guests. We do not work with third party agents so the price we provide you is the guaranteed price you will pay as agreed with the actual villa owner.
Location Location Location
Not only are our selected destinations some of the most beautiful places to stay in the world, we also choose villas that are in the most desirable spots. Whether you are looking for a villa with a championship golf view, an ocean view or even on a sandy beach, we give you peace of mind that your villa location is a key part of our selection criteria.
Reservation security and reassurance
We use only the most secure payment methods and should your rental villa have an issue on arrival, we guarantee to find you a similar quality villa in the same location.
Exceeding expectations
Our concierge team are on hand to ensure you make the most of your holiday. Whether you require an in-villa private chef, a baby sitting service, theme park tickets to Disney (Orlando guests) or even a magical champagne balloon flight, our travel experts are here to help you, all the way.
Our experience
Our reservations team are very familiar with all aspects of the destinations we offer. They will be able to advise you on places to see, restaurants to book and activities to try. We pride ourselves on making sure you have a holiday of a lifetime.
Accreditations and associations
We are a proud member of ASTA, the American Society of Travel Agents. Integrity is key to our business and we subscribe to the ASTA code of best practice.
We are also a proud allied member of FVRMA (Florida Vacation Rental Management Agents) and we also only work with agents who work to the highest standards. We seek agents who can demonstrate this by their membership to appropriate vacation rental bodies. Our agent in Florida for example is also a member of the FVRMA.
Awards & accolades
Industry recognition is important to us and our partners. We are proud that our largest home management team covering Orlando was awarded the prestigious Florida VRMA's – Top Vacation Home Management Company for 2016. 
October 2018 Update: We are proud to have won LUX Lifestyle Magazine's  "Best Luxury Travel Agent 2018 – West Sussex" for their Global Hospitality Awards. Click here to view our article in the 2018 awards booklet.
Our CEO, Kerrie Potts has been awarded as a winner in CEO Today Magazines 2021 Awards. CEO Today identifies and honours the most respected companies and their C-Level executives who lead the way on a global stage. In the past 12 months, a team of judges has been researching CEOs who have demonstrated the ambition, skill and expertise to take their companies to new heights and deserve to be recognised as one of the top CEOs.
M&A Today 2022 Travel Agent of the Year.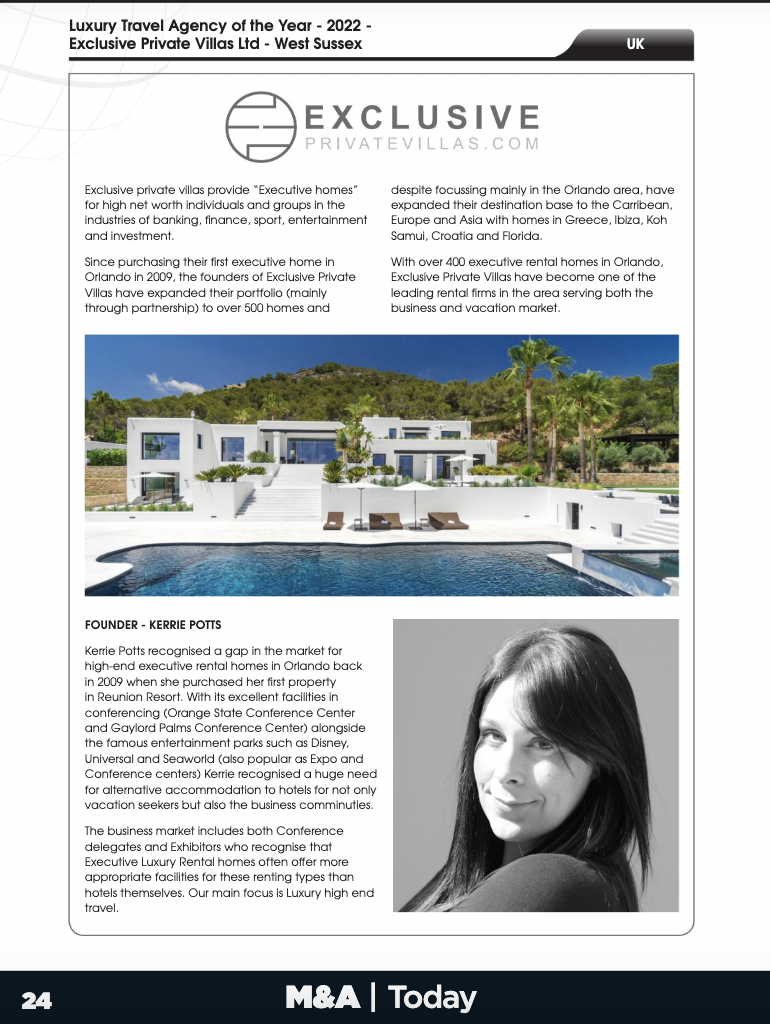 The Legal 100 – 2022 special edition Luxury Travel Agent of the Year.
Global 100 2022 Winner – Luxury Travel Agency of the Year – 2022 – Exclusive Private Villas Ltd – West Sussex, UK
Code of ethics
We adhere to the code of ethics as outlined by FVRMA which can be viewed here
Professional Indemnity
In line with ASTA (American Society of Travel Agents) policy, we hold professional indemnity insurance for sums of up to £1m (approx $1.4m USD)
Booking FAQ
How secure is your booking process?
Our booking process is very secure. In addition, we are fully PCI DSS compliant and insist on only taking credit card details for your deposit and later balance via Docusign which uses full data encryption providing the most robust and secure method of transacting online. We never advocate taking card details via email or over the phone.
Am I protected against my villa being sold or something like a hurricane rendering my property uninhabitable?
Yes, you are 100% protected and this is one of our key strengths. We represent hundreds of villas in the area and in these rare circumstances, will easily be able to offer you an alternative similar property in the same area or an upgrade. Failing that, we will offer you a full refund but we usually have near identical alternatives in the area. This is one of our core strengths we are able to offer our customer base.
What's the worst that could happen?
As with any holiday things rarely go wrong but we always recommend buying comprehensive travel insurance around the time you book which gives total peace of mind for things like the need for medical care, flight delays and issues with your property.
Can I opt to have pool heat?
Yes, it normally takes a day to switch on and heat up so guests often leave it until arrival to check the temperature and instruct us. However, we would be happy to quote for pool heat depending on the size of the Pool.
What Deposit do you need to secure a booking?
We take a non-refundable 25% deposit on our Florida Villas. You then simply pay the balance 9 weeks before your arrival.
Are you affiliated with any industry bodies?
Yes, we are proud to be members and work to the standards of both ASTA (American Society of Travel Advisors) and FVRMA (Florida Vacation Rental Management Association). We also hold $1,000,000 of indemnity insurance.
Who looks after us when we are at the villa?
From the moment you book to the day you leave the villa, it is our FULL responsibility to ensure you have the holiday of a lifetime. We are experts in not only the villas but the theme parks, restaurants and other attractions so please contact us for any questions you have at any time. Whilst at the villa you will also be looked after by our ground team who are the 2016/17 and 2017/18 FVRMA Management company of the year. Whilst trying not to disturb you, your pool will be cleaned twice a week and our expert maintenance team are on hand should you have any issues with the villa. If you do wish to escalate any issues though, do get in touch with us immediately.
What do I do if I need something special like a cot or a high chair?
We can rent you almost anything you will imagine you'll need on your villa holiday and drop it off at the villa.
How do I get access into the villa?
All our villas are accessed by state of the art digital code keypads. A few days before you arrive, your reservation specialist will send you full arrival details. This will include your dedicated FOUR NUMBER access code. When you arrive at the resort, simply show the security staff your arrival details. They will then give you a temporary car pass for the duration of your holiday.
Do you take a security deposit?
We simply ask you to sign an agreement so we can take a credit card payment if there are any breakages or damages to the property found during post departure inspection.
Could you help us with our Disney questions?
Our CEO, Kerrie Potts has been trained by Disney under their partner programme. As Disney annual pass holders ourselves (and some of us with a 20 years of park experience), we are specialists in advising guests on all major parks. We would be delighted to help you plan your days in the parks to get the most out of them. Our guests are always leaps and bounds ahead of others with their FASTPASSES and Restaurants booked months in advance and plan on what routes to follow.
Can we cook and eat Al Fresco at the villa?
Almost all of our villas have Al Fresco dining opportunities. Around your private pool, with outdoor grills to cook your food. Do check with us if you cannot see the facilities in any of the photos of your villa.
Can we play golf at Reunion Resort?
Many of our Villa owners are members of Reunion Resort and as such, have an opportunity to allow their guests to "inherit" a temporary membership. Check with us to discuss this as there are some restrictions but essentially yes, even without membership, you should be able to play golf. Just check with us or Reunion Resort club house first.
Can we hire a chef?
You can indeed. We offer some of the finest dining chefs in the area so do get in touch with us to arrange your specific needs.
We'd like to get mid-holiday cleaning do you offer this?
Yes, we do offer extra cleaning and you can choose between a FULL and LIGHT clean depending on your budget.