About Windsor Hills Resort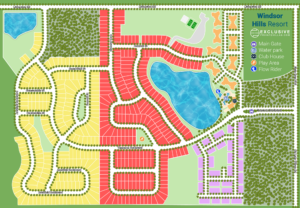 Windsor Hills is a luxurious village-like resort that is impeccably maintained with beautiful villas and 5-star amenities, and its the closest resort to Walt Disney World.
The pretty Windsor Hills Resort is a firm family favourite due to its enviable location just 2 miles away from Disney. But inside the resort you'll also have exclusive access to a fabulous collection of amenities including a lagoon-style pool with waterslides, a toddler pool, fountains and a large hot tub, a waterpark with fountains, slides and water cannons – perfect for smaller children, a recreation park, three themed children's play areas, tennis courts, a gym, a putting green, basketball and volleyball courts, table tennis, cinema, games room, picnic area, and a grill restaurant.
Perched on the borders of Walt Disney World, Windsor Hills is perhaps the most conveniently situated of all of the Florida resorts, and yet despite its proximity to Disney, it still manages to make one feel perfectly at home – with a cul de sac atmosphere and lines of beautiful villas, each framed by pretty gardens and flowerbeds creating an atmosphere of serenity and tranquility.
But that all changes inside the huge 10,000 square foot clubhouse, which is located right next to the entrance to the resort and a little further away from the villas, ensuring the neighbourhood retains that desirable and authentic gated community atmosphere. While staying at Windsor Hills, think of the Clubhouse as your hotel reception. Here you'll find everything from the grill restaurant, store, and internet cafe to the pool and a helpful team of staff on hand to offer any help that one might need throughout the day.
Windsor Hills Villas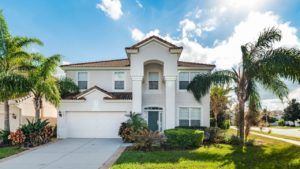 Our Windsor Hills Villas are perfect for big families who need five or six bedrooms and plenty of living space. We have villas with themed bedrooms for families travelling with children, some with luxury amenities like covered swimming pools with built in hot tubs, some with lively games rooms, and large open plan kitchens that are perfect for dinner parties and family get togethers. And each of our villas are fully appointed with luxury finishings, beautiful furniture, large en suites,  and top of the range kitchen appliances.
Our Windsor Hills vacation villas are perfect for families who want to be as close as possible to Walt Disney World without sacrificing the home comforts, security and serenity that only a charming gated resort like Windsor Hills can provide.
Restaurants at Windsor Hills
 The Market Place And Grill
 While there aren't really many restaurants at Windsor Hills, the resort is home to a convenient combination shop and restaurant: the Market Place and Grill. The Market Place and Grill acts as a convenience store with all the usual sundries and grocery store items (plus kids pool toys and souvenirs) and a grill restaurant with a good menu of bites, sandwiches and pizzas. And there's a few tables inside, but you can also get everything to go and easily enjoy your meal al fresco under the Florida sunshine.
The best of the menu is found in the "sandwiches", which includes dishes like bacon cheeseburger, grilled cheese sandwiches, and delicious vegetarian options such as the black bean burger. The stone baked pizzas are simple but well made with fresh and tasty ingredients, while the drinks menu is surprisingly eclectic with milkshakes and slushies for the children, and frozen cocktails, wines by the glass and beers for the adults.
Restaurants Close To Windsor Hills
Those searching for a little more in therms of restaurants, bars or nightlife options needn't look too far, as Windsor Hills is situated close to a plethora of other resorts and less than an hours drive from both Kissimmee and central Orlando. The resort that we think balances the greatest convenience with the greater selection of amenities is the vast ChamptionsGate, which has fine dining at Zen, Italian fare at Forte, and a high street's worth of chain restaurants, as well as shops, cafes and delis that are all just 10 minutes from Windsor Hills.
For even more options we suggest a day trip to beautiful Orlando to indulge in its international selection of restaurants and bars and to see stunning attractions such as Orlando old town, Wonderworks, and the surprisingly languid Lake Eola Park, that sits right in the middle of Orlando's tower-adorned Downtown.
Golf At Windsor Hills Resort
For those wanting to practice their game, there is a 9-hole putting green in the recreational area and you can rent putters and balls (free of charge) from the visitor centre, but for anything more you'll need to venture out of the serene surrounds of Windsor Hills.
We suggest the huge ChampionsGate Resort that along with its own 9-hole practise course, has a miniature golf course and two Greg Norman–designed 18-hole championship courses spread across multiple acres of undulating greens, glistening lakes, tall grass dunes, woodlands and orange groves. Take a look at our ChampionsGate Resort Guide here. Other options include Orange lake Golf Club and the excellent Mystic Dunes, which is the closest to Windsor Hills and boasts two courses spread across some of the highest points in Kissimmee.
Those seeking a more integrated golf experience, with full daily access to the greens and a helpful golf professional on hand, should take a look through our hand-picked selection of luxury vacation villas at the exquisite Reunion Resort. It offers three professional level golf courses as a part of what is easily one of the area's most impressive collections of luxury amenities. Take a look at our Reunion Resort Guide here.
Swimming Pools at Windsor Hills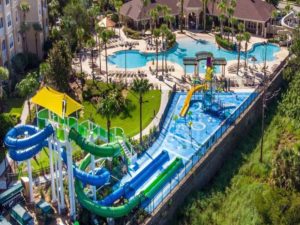 The main family pool at Windsor Hills is perched just outside of the Clubhouse and on one side has a large collection of sun loungers, some resting under the shade of lush groves of palms, and on the other side a large two-storey pool slide. Right next to the main pool is a water park with duelling slides, water cannons and a play area for smaller children.
If you'd like to have your own pool then we offer beautiful, covered pools with hot tubs and spas in many of our Windsor Hills vacation villas.