The Bear's Den, Golf and Luxury at Reunion Resort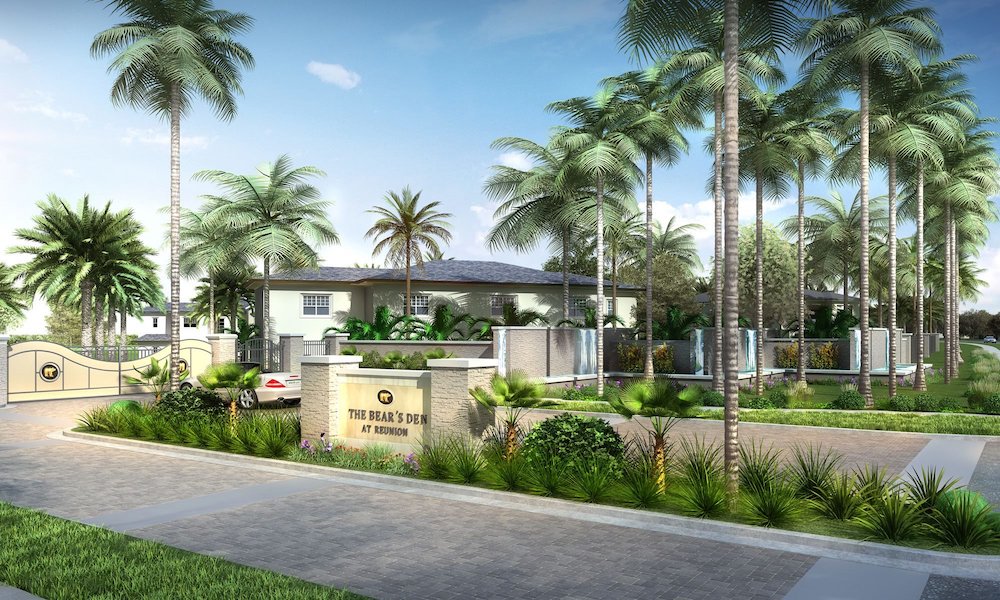 The Bear's Den is a new development of luxury holiday homes located within the popular and well placed Reunion Resort. It is a high-end collection of villas surrounding the Jack Nicklaus Signature Golf Course and is steeped in park views and a stunning nature and wildlife area. Suppose you choose to stay at one of these luxury homes. Guests choosing these luxury rental villas will also benefit from the amenities at Reunion that include a further two golf courses, a waterpark, lazy river, tennis course, a range of eateries, and biking and walking trails for walking those who love to spend time in nature. It is the perfect base for Disney and the other major theme parks, offering home-from-home accommodation with privacy and space for you and your family to enjoy.
The Villas
There are 52 villas that have been designed by lifestyle architects who have put together 11 different home designs. The largest villas have eight bedrooms, and smaller four-bed homes are on offer so you can go as part of a group or with just your family. Most homes have views out to either the Jack Nicklaus or the Reunion Tradition greens, making them the ideal place for a golf buff to rest after a day on the course. For a wide choice of Bears Den Villas, guests can book online at www.exclusiveprivatevillas.com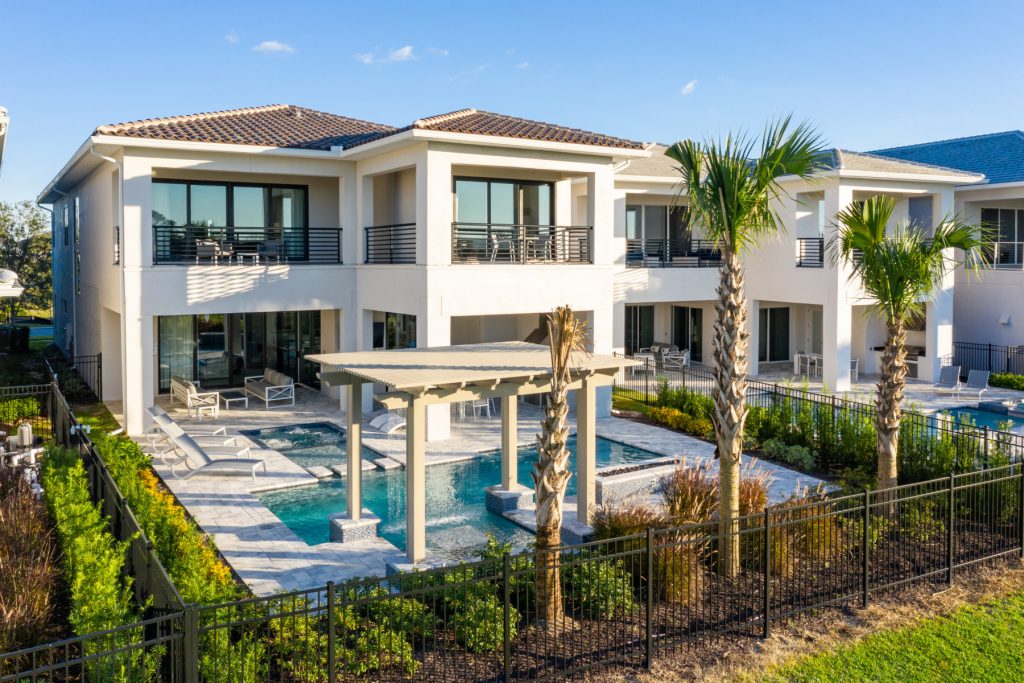 The Experience
The appeal of the luxury rental villa is coming home from exploring theme parks to a private space where you can switch off and unwind. Unlike hotels, there is no communal dining halls or restricted mealtimes; you can self-cater, order in or eat out at one of the many restaurants on the Reunion site. There is also a sense of space, especially at night. Hotels often mean sharing bedrooms with the children, making the evenings long as you try not to disturb them.
The child-friendly bedrooms make your youngsters want to sleep in their holiday rooms. May homes have a home cinema or games rooms, perfect for the last pre-sleep activity. Adults can retreat downstairs and make use of the lounge and garden space. Relax in the pool, have a glass of wine on the terrace or chill in front of the television – the evening is yours!
The Outside Space
Everything is well thought out, and your outdoor space comes with the perfect set-up. The Orlando climate is ideal for a spot of alfresco living, and the outside area your villa offers easily facilitates this. Whether you want to have dinner on the terrace or unwind by the pool, the choice is yours. Having a private pool is one of the features that most guests value the most. Although reunion has a water park including a pool and lazy river, private pools are invaluable.
There is nothing better than a dip in the cool water at the end of the day, and many people enjoy an early morning swim. It could also be the perfect way to learn to swim for younger family members; just remember to pack the water wings. Some of the villas have jetted jacuzzi pools, and again, these are a great hit with guests young and old. Outdoor cooking facilities are also on offer in some of the setups meaning a BBQ can be on the cards. As mentioned before there is a local supermarket that can provide you with everything you need for an evening in the garden.
The Finish
While each of the villas has a unique look and feel, the finish in all properties is the highest of standards. A lot of time and effort has gone into the design for the children's rooms, with princess themes and space themes to creative beds with slides for making getting up in the morning a dream come true. Many villas have garden games, including giant connect four, and games rooms with foosball, space invaders and other epic classics.
Down Days and The Bear's Den
The villa also makes the best space for a day off from theme park exploring. Disney is pretty full-on, and we don't recommend doing more than two days in a row if you have younger members in your party. Overtired and cranky isn't conducive to fun for anyone on a day in a bustling, noisy theme park. Plan your schedule to incorporate some down days and let Reunion entertain everyone in a much more relaxed way. Get up late, have a lazy breakfast with the food you picked up in the store the night before, then head into the resort centre.
The Jack Nicklaus Grand Club House
Whether you take to the green or not, the Jack Nicklaus Grand Club House is an exceptional facility. The building is striking, and the architecture has drawn on a Mediterranean styling and boasts every facility the amateur or professional golfer could ever need. From the pro golf shop that sells a range of kits and accessories to the changing rooms and exercise room equipped with many key pieces of training equipment. The restaurant features indoor or patio dining, and the menu is first-rate.
Also, in the clubhouse, you will find the Jack Nicklaus experience, which showcases his Hall of Fame career, including memorabilia, celebrating this popular and world-class golfer. As a guest at The Bear's Den, you can book a social membership for the duration of your stay. If golf is your motivation for choosing this luxury villa accommodation, then this is one venue you will want to spend time in.
The Golf Courses
There are three golf courses to choose from in Reunion. As well as the Jack Nicklaus course that forms the centrepiece to The Bear's Den, there are also two other PGA legend signature courses to play on. Both Arnold Palmer and Tom Watson have put their stamp on a green, and all three are kept to the highest of standards, making them attractive to other professionals and amateur guests from all over the world.
The site courses are described so eloquently we didn't want to change them! Guests are welcome to play at all three courses, but your game must be booked in advance.

'Jack Nicklaus: Tee off along smooth, flowing horizon lines with elevated tee boxes and greens. This thoughtfully organised set of 18 holes challenges each golfer to achieve.'
'Arnold Palmer: Take your chances with distinctive risk/reward shots. Sprawling out over hilly, rolling terrain, Arnold Palmer's golf course offers 6,916 yards of engaging play with elevation changes up to 50 feet.'
'Tom Watson: With wide-open greens, rolling fairways, and strategically placed bunkers, Tom Watson's course calls for well-calculated golf that puts a premium on a solid short game.'
Staying in Shape
The exclusive fitness suite is offered to all resort guests, so you don't have to worry about the post-holiday bulge. It opens at 7 am and closes at 11 pm, giving you plenty of time to sneak out for your workout or take turns in staying with the children, so you both get to keep fit. It is fully stocked with elliptical machines, recumbent bikes, upright stationary bikes and treadmills for cardio fitness. There is also a good selection of weights, foam rollers and yoga mats for strength and flexibility. Guest can also book the services of a personal fitness instructor and take part in private dance fitness classes.
The Exclusive Package
Everything you could need has been taken care of, and you can relax with complete care with some of The Bear's Den extras. An entire catering team is available, and they can come to your villa and cook for you. If you are staying in the area for a special occasion, they can also provide catering for any event from anniversaries to weddings. If you don't want to leave the villa, your concierge service can fetch groceries or meals from any onsite restaurants and bring them to your door.
Global Menus
There is a wealth of delicious offerings set within the Reunion resort when it comes to food. You can eat in, take away or ask them to deliver to your door if the kids have fallen asleep and you are feeling peckish! There is fresh sushi on offer, steak and chips and other classic American fayre and Italian inspired pasta dishes. They cater to most tastes and have alternatives on offer for those with specific dietary needs to don't be afraid to ask.
Traditions is the American diner, and this is located in the Jack Nicklaus Clubhouse. For a more formal dining experience, head to Eleven, which is unsurprisingly on the 11th floor, where you can choose from the best in prime cut beef. If you are looking for a taste of Italy, Forte is where you should head, and this is a Tuscan styled menu served in a warm family atmosphere. If you like your fish fresh and raw, then the Grande Lobby Sushi bar is your destination, and they also serve some amazing cocktails. Finally, more traditional American fayre is offered at the Reunion Clubhouse serving traditional fuss-free dishes and plenty of comfort food.
Other Amenities
You can also head to the spa for a bit of rest and relaxation and enjoy a massage or beauty treatment; this is another service that can come to you if you prefer the privacy of your villa. Bocce Ball is a lawn bowling game that originated in Italy and is enjoyable. The resort has Bocce Ball courts for guests, but you will need to book in advance. If you need to dissipate the energy that younger guests tend to have, there are two well-stocked playgrounds where you can sit with a coffee while they use up the excess energy, getting them nicely ready to sleep it off!
There are also tennis courts and the chance to explore pickleball – you really should try it if you haven't already! The resort hosts concerts on various evenings throughout the year and arranges scavenger hunts that are great fun for all ages. The resort has a real family feel, and everyone is taken into account. The staff go to great lengths to cater for all and try to make sure a full inclusion for anyone that wants to take part.
Close to the Action
Disney and other major theme parks are just a stones-throw away, and plenty of transportation is available. Although the homes come with driveways and garages, families can easily access every part of their holiday without needing a vehicle which means no stress of driving in a new place for the designated driver. There is a free shuttle that runs at various times to take you straight to the heart of Disney, and the concierge can arrange taxis for any needs, including airport transfers. This is certainly a prime location for anyone wanting to visit Disney but not wanting to stay onsite. Learn more about Bears Den and book your own villa here
Author Kerrie Potts, Exclusive Private Villas Limited. January 2023. All rights reserved.