Disney Face Mask Wearing at Disney World Florida: Updated Guidance March 2022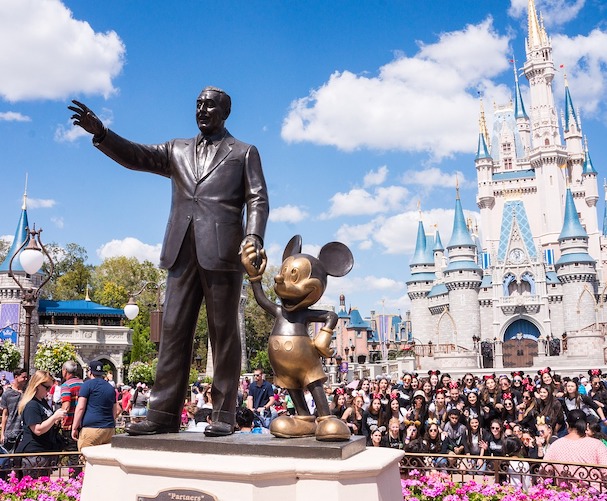 The world has now started to unlock following the Global pandemic. On February 17th 2022, Disney World Florida issued new guidance. This included safety regulations in the park, as well as the new expectations for Disney face mask wearing.
This is only for Disney sites in Florida and California. Other parks across the world may have different requirements, so visitors should check specific locations before travelling.
Guest Safety
Disney stresses that they are committed to guest safety and fully support and encourage taking up the vaccination program. The guidelines below are also subject to change, without further notice, if the management feels a need to react to any potential COVID-19 developments.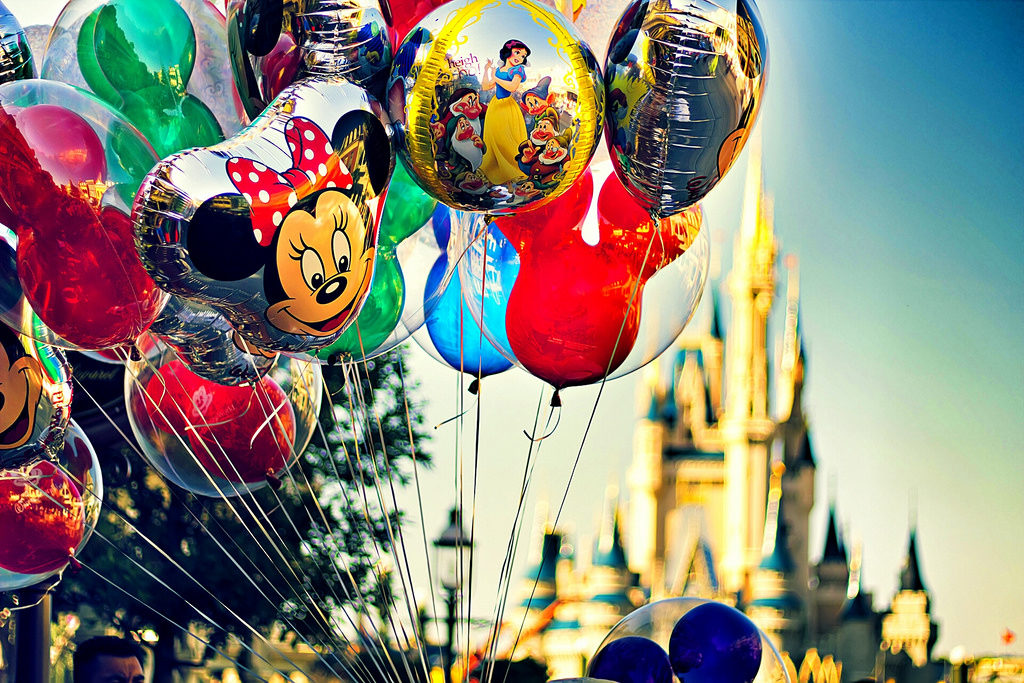 The change in Disney face mask guidance has come hot on the heels of Universal Orlando making changes to its mask-wearing policies, and both theme parks are now in alignment.
All businesses in Florida are able to determine mask requirements believed suitable for their activities and do not have to match the state mandate unless masks are mandated at a state level.
Florida is still recommending that face coverings be worn, but it is no longer mandated. California has also ended the mandate to wear masks provided you are vaccinated. Business in this area may create their mask guidelines and be stricter than the state if they feel it is appropriate.
The Current Guidelines on Facecoverings
As it stands currently, mask-wearing has become optional for guests who are fully vaccinated, and this applies across the park except when using the buses or the monorail when all visitors must wear face coverings. However, if you are fully vaccinated, you can choose whether or not you wear a mask in all indoor locations and on the Skyliner.
All guests may remove their masks when eating and drinking at indoor catering venues. Still, unvaccinated guests or those who haven't fully completed the vaccination journey must continue to wear their masks indoors, including when moving around food venues. Those without complete vaccine history must also wear their masks on Skyliner.
From Age 2 and Up
Another thing to be aware of is that Disney's mask-wearing guidance applies to children from age two and up. In the UK, children have been routinely exempt from mask-wearing in most places, so this is something parents should be aware of if they are planning to head to Orlando. Mask wearing for such young children was something that Disney introduced in July 2021 as there were concerns over the spread of the Delta variant.
If you have small children that haven't experienced masks up to now, it is suggested that fun but practical children's masks be purchased in advance, and younger party members are given a chance to practice wearing them to remove any concerns they may have. Before you rush out to buy masks, read on to see what qualifies as a suitable face covering.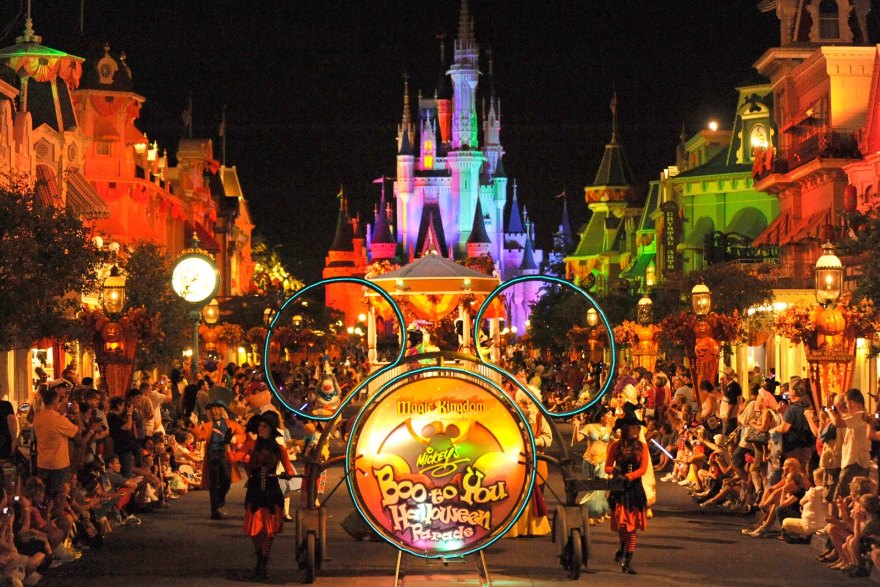 Not All Masks Are Created Equal
Disney has made a lot of stipulations about the type of masks they expect guests to wear, and not doing so could result in being asked to leave the park. Costume masks are not prohibited in any way at the moment. These are not suitable for the purpose and would also prevent staff from seeing if an appropriate mask is worn underneath, so leave your costume heads at home.
They also state that guests must not wear open chin masks, neck gaiters, or triangle bandanas based on the guidance they have taken from health authorities. Their website stipulates that suitable masks cannot have mesh material, holes or valves of any kind.
So, What is Appropriate?
The first thing to note is that masks may either be disposable or reusable, provided they comply with the following list of requirements. To avoid confusion, they have been taken directly from Disney's website.
Be made with at least two layers of breathable material
Thoroughly cover the nose and mouth and secure under the chin
Fit snugly but comfortably against the side of the face
Be connected with ties or ear loops and allow the guest to remain hands-free
Guests With Additional Needs
The site goes on to confirm that if a guest has a requirement to see the mouth, for example, in the case of hearing-impaired guests needing to lip read when conversing with members of their party, this is not a problem as long as they feature a transparent plastic panel and
Be a fabric face-covering featuring a solid plastic panel containing no openings that are attached to the fabric on all sides using tight knit stitching
Meet all face-covering requirements listed above
Does Disney Sell Masks?
You will undoubtedly find a number of masks on sale throughout Disney that comply with their mask requirements, including plenty that features characters if this placates smaller children about wearing them. By far and away, the best seller is the Baby Yoda masks, and teens will want to tweet, Insta or TikTok themselves in the mask as this is a massive trend at the moment.
Summary:
The current mask guidelines are shown below. The onus has been placed on guests to do the right thing based on their vaccination status. There is no requirement to prove vaccination status to get into the park. For safety reasons, masks are NOT permitted by any guests using pools and waterslides.
| | | |
| --- | --- | --- |
| Face Coverings (Guests Ages 2 and Up) | Fully Vaccinated Guests | Guests Not Fully Vaccinated |
| All indoor locations, including restaurants, except when actively eating or drinking while stationary | OPTIONAL | MASK |
| Disney buses and monorails | MASK | MASK |
| All outdoor areas, including outdoor attractions, outdoor queues and outdoor theaters | OPTIONAL | OPTIONAL |
| Disney Skyliner | OPTIONAL | MASK |
Additional Health and Safety Issues
The mask-wearing guidelines are to be used in tandem with other health and safety protocols. Disney still prohibits guests from entering the park if they have any symptoms or have been told to quarantine due to having close contact with someone confirmed to have COVID-19.
What if you are feeling unwell?
If you are feeling unwell, you are not permitted to enter Walt Disney Resort. If there is any suspicion that someone is knowingly flouting the requirements, they can be removed from the park. The list of symptoms matches that of national guidance issued by the Centres for Disease Control and Prevention. It can be confirmed by visiting CDC.gov.
Fever or chills
Cough
Shortness of breath or difficulty breathing
Fatigue
Muscle or body aches
Headache
New loss of taste or smell
Sore throat
Congestion or runny nose
Nausea or vomiting
Diarrhoea
COVID-19 Warning
Disney also continues to protect itself and all guests by issuing a warning about the ongoing threat posed by the virus. It states that public spaces and crowds of people increase the inherent risk of being exposed to the virus. They further remind guests that COVID-19 remains an extremely contagious disease that, for some people, will cause severe illness and, in some cases, loss of life.
Vulnerable groups, including those who are immunocompromised or have underlying medical conditions plus senior citizens, continue to be at the highest risk.
The Wider Area
Visitors to Central Florida are still required to wear masks when travelling. The Transport Security Administration has said that mask-wearing when arriving in Central Florida and other airport locations will remain mandatory until at least 18th April 2022 as there are still concerns over the Omicron variant.
Private transport companies such as licensed taxis may well also insist that face coverings are worn. As already mentioned, it is mandated on buses and the monorail at the theme park irrespective of vaccination status.
Are People Complying?
COVID-19 is a subject that divides people, and mask-wearing is certainly decreasing across parks, but it could well be that these people are fully vaccinated. There is no way to prove or disprove a vaccination status, and Disney has firmly refused to open that can of worms. If you are vaccinated and prefer to keep wearing a mask, you are within your rights to do just that.
Taking precautions becomes much more challenging in a large capacity venue with thousands of guests, but you can still choose to wear a mask and regularly wash or sanitise your hands. You can also monitor little ones to make sure they are washing hands before and after food or if they are touching surfaces that others have come into contact with.
Mask History
This is the second time during that pandemic that mask-wearing has dropped from mandatory for guests who are vaccinated. The theme park allowed vaccinated guests to go mask free in many indoor venues in June 2021, but it barely lasted a month before there was a u-turn due to an increase in cases and new guidance from the CDC.
It goes without saying that Disney will be taking their advance from the body, so if anything changes again, there could be another rule change. Disney has reserved the right to make any further changes without notice if it believes it is in the best interest of park guests and staff to do so.
Disney Cleanliness and Sanitation
Disney has also reiterated that they are committed to health and safety, so they will be continuing their sanitation and cleaning procedures. They have stated that they will continue to ensure all guests can have easy access to handwashing facilities and ensure that hand sanitiser dispensers are kept full and on offer.
Using the My Disney Experience app will help you locate a sanitiser point, but it does make sense to carry your own. Complimentary bottles are available in various locations, including hotel lobbies and theme park entrances. Guests should continue to practice good handwashing hygiene.
CDC Guidelines on Handwashing
The CDC website states that:
'To prevent the spread of germs during the COVID-19 pandemic, you should also wash your hands with soap and water for at least 20 seconds:
Before touching your eyes, nose, or mouth
After touching your mask
When leaving a public place
After touching objects or surfaces that may be frequently touched by other people, such as door handles, tables, gas pumps, shopping carts, or electronic cashier registers/screens
If soap and water are not readily available, use a hand sanitizer with at least 60% alcohol to clean your hands.'
How to Handwash Effectively
You can successfully wash your hands in cold or warm water. Begin thoroughly wetting your hands under clean running water, then turn off the tap to avoid wasting water. Grab the soap and lather it well by first rubbing your hands together, then moving on to the backs of your hands. Rub the soap between your fingers, not forgetting your fingernails.
You should scrub your hands for 20 seconds, and experts have estimated that this is the time it takes you to sing happy birthday twice – or count to 20 using the Mississippi method (one Mississippi, two Mississippi etc.). Now you can turn the tap on and rinse your hands before drying them on a clean, disposable towel (unless you are at home). If there is no fresh paper towel, let them air dry rather than using shared towels.
Using Sanitiser as an Alternative
Sanitiser can be used in place of handwashing but is considered slightly inferior. The reason for this is that if your hands are greasy, the sanitiser may not work as well. However, it does offer reassurance and an alternative in a busy place like Disney. It is essential that the hand gel or foam used has at least 60% alcohol, and this should be clearly displayed on the container.
Use the bottle to determine the recommended amount of hand sanitiser and apply this to the palm of your hand. Now rub your hands together, repeating the same pattern as handwashing to ensure you are covering your hands well. You should do this for about 20 seconds, by which time the hand gel should have dried off your hands. Repeated washing of hands and use of hand gel can cause contact dermatitis, which is best remedied by using hand cream or moisturiser overnight.
This Disney Face Mask article is copyright Exclusive Private Villas Limited – Specialists in Solara Resort Villas