A Peek Inside Some of Our Most Luxurious Orlando Vacation Homes!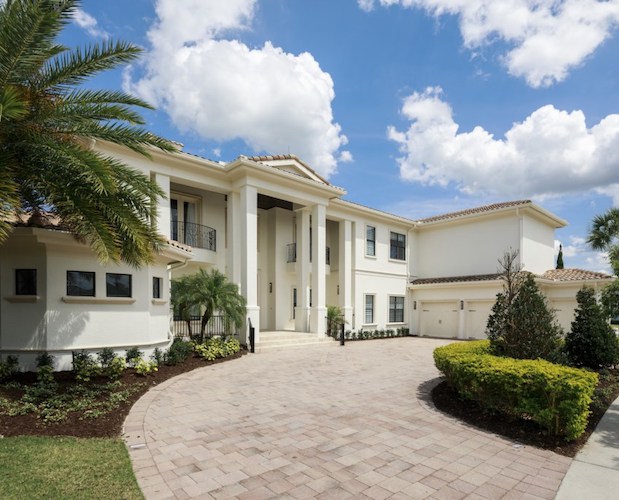 Luxury villa rentals are becoming one of the most popular ways to vacation. Instead of spending your time cramped into a hotel room tied to mealtimes and not really having enough space, renting a whole villa gives you so much more. You are free to come and go as you please, the kids have their own room to sleep in, you can cook, watch TV and chill with so much space you will love the experience. Most of our villas also come with their own private pool and alfresco dining areas, allowing you total freedom and the best in home from home experience.
Located on some of the best parks in the area, our homes make the perfect base for exploring Disney, Universal, Sea World and more. Many have shuttles that run multiple times a day so you can land right in the middle of the theme parks and not have to worry about parking and transport and the sites all come with extensive facilities to make your stay comfortable. From shops to leisure facilities and more, there is always something to do onsite, so if you fancy a quieter day but still want to amuse the kids, you have plenty to do. If you are thinking about renting a villa, why not come with us through the keyholes of some of our most luxurious Orlando vacation homes and see exactly what you can expect
13 Bedroom Reunion Vacation Home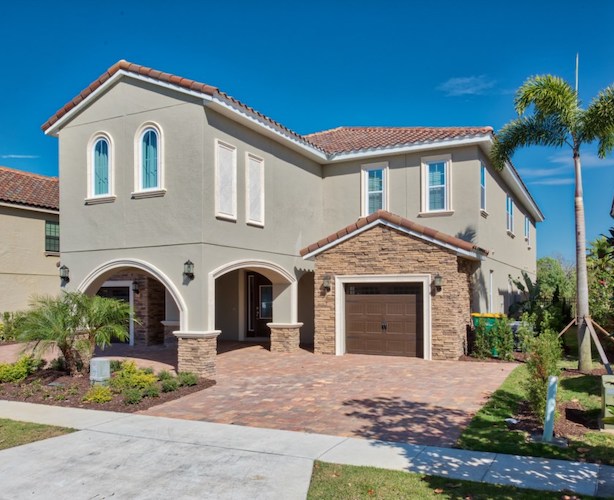 This villa is on the Reunion resort and is a stunning 13 bedroom vacation home making it the perfect setting for larger parties, so bring your family and friends and enjoy this experience. The Reunion resort is just 12 minutes away from Disney and is packed full of features including a prestigious golf course that residents are able to use. The outside area is perfect for soaking up the Florida sun and features a stunningly appointed pool with a small spa off to one side to soak away your stresses. There are a range of sun loungers included so you will have plenty of space to sit, no need to race out and get your towel down first thing, this is a private pool so villa guests only. The kitchen area is spacious and features a breakfast bar and plenty of cooking facilities should you wish to do a little catering while you are there. Upstairs there is a range of twin and kingsize rooms making it easy to accommodate everyone, and there is also a lovely balcony that overlooks the pool. Perfect for a drink before bed. There is a huge dining room table if you want to eat as a group and a home cinema for a quieter night in or for amusing the kids when you don't fancy another day out. Choose your seat from the most comfortable loungers, close the blinds and enjoy your private screening. If you want to take a look at the property in more detail, click here.
10 Bedroom Villa near Disney World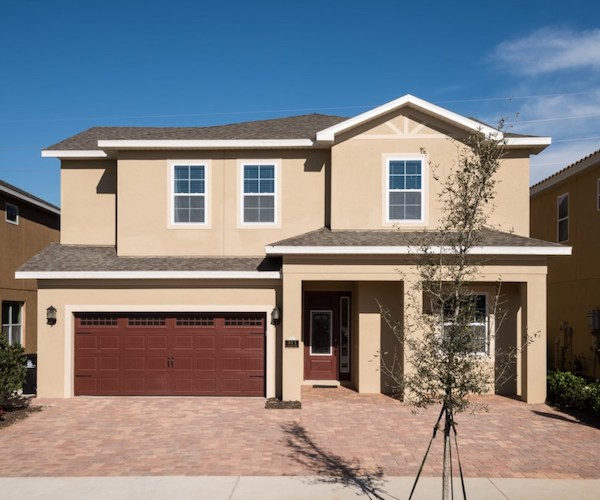 If you are looking for something smaller then over on the Encore resort you will find our 10 bedroom villa which is stunning inside and out and has the capacity to sleep, 20 guests. This is another park that is ideally situated for a quick hop over to Disney World there is a lot to entertain the whole family within the resort walls. It is well known for its water park, and there is a well-stocked fitness facility as well as several restaurants if you fancy a night off cooking. The villa itself is a luxury setting that features 10 bedrooms each with bathrooms ensuite so there is lots of choices when it comes to picking the best room to rest your head. In the main living area, there is plenty of sofa seating for kicking back and relaxing, and all of the bedrooms have television sets. There is also a foosball table and second lounge area in the loft. Outside you have the benefit of a private pool and a spa area with plenty of poolside seating for relaxing and topping up your tan. There is an integral garage if you are choosing to rent a car for the duration of your holiday. This is a stunning villa that offers a home-from-home feeling and will make the perfect base for many larger friends and family groups. Take a look at more of the photos here!
8 Bedroom Champions Gate Villa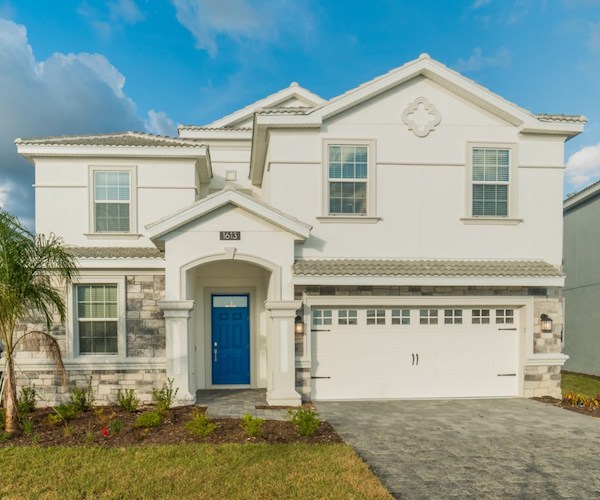 Champion's Gate is another amazing resort that is located near Disney World and has a stunning range of luxury villas on site. This is a great 8 bedroom villa that means you can sleep 17 guests and enjoy everything the home and site have to offer. The decor is bright and modern and features a well-appointed kitchen diner area that has a dining room table and a breakfast bar. The large American style fridge freezer gives you plenty of storage space for any self-catering needs, and you will find all the appliances you need for the perfect breakfast every morning. There is a cot in one of the double bedrooms making it ideal for parties with even the smallest of guests and all 8 rooms have facilities either ensuite or close by with a total of 5 bathrooms servicing the bedrooms. Two of the twin rooms are themed and perfect for older children, with a Mickey Mouse themed room and a Star Wars-themed room to capture their imagination and to make sleeping away from home a dream. In the games room you will find a pool table and other games, while outside there is a covered pool which is perfect if the weather happens to dull or rainy, and off to one side a heated spa for treated those tired muscles after a day of playing in the parks and standing in queues. This is a lovely villa and one you are sure to enjoy. To look at the rest of the photos for this villa, just click here!