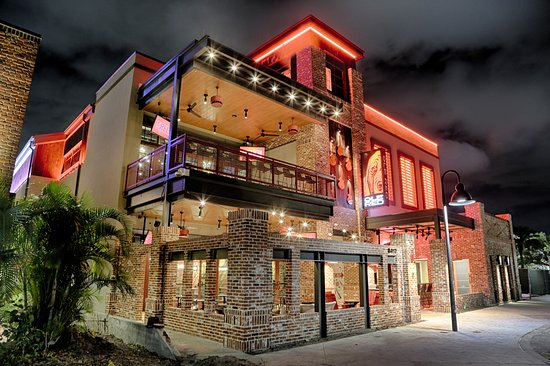 If you are a country music fan then this venue is for you. Looking for a fun, casual dining experience you can enjoy with the whole family? Then look no further than Ole Red Orlando! Just like its predecessors—the landmark Bruce's Yacht Club, Captain Bruce's Seafood Grille and Sportsplex—ole red is all about good friends, family and food!
Ole Red Orlando Menu
FRIED PICKLES AND GREEN TOMATOES ❦
House Pickled Green Tomatoes, Red and White Bar-B-Que Sauces
WAGYU BEEF CHILI
Loaded with Chili Peppers, Beans, Cheddar, Sour Cream, Fritos™
SOUTHERN TATER TOT POUTINE*
Pulled Pork, White Gravy, White Cheddar Curds, Green Onions,
Fried Egg, Ole Red Hot Sauce
REDNECK NACHOS*
Tortilla Chips, Smoked Chicken, Velveeta™ Beer Cheese, Pickled Jalapeños, Avocado, Sour Cream, Rotel™ Tomatoes, Ole Red Bar-B-Que Sauce, Green Onions
RED, RED, REDNECK SHRIMP*
Crispy Shrimp, Bar-B-Que Corn, Cilantro, Fresno Peppers, Spicy Sauce
Salads
TRASH TALKIN' TACO SALAD ❦ ⚑
Fritos®, Velveeta®, Black Olives, Red Beans, Fire Roasted Salsa, Sour Cream, Jalapeños, Avocado, Lime, Catalina Dressing
Add Taco Meat*
THE DOG BOWL* Keto ⚑
Ground Beef, Bacon, Cauliflower Rice, American Cheese, Lettuce, Tomatoes, Onions,
Pickles, Sesame Seeds, Special Sauce
WAGON WHEEL BAR-B-QUE COBB
Pulled Pork, Bacon, Egg, Pickles, Tomatoes, White Cheddar, Cornbread Croutons, Bar-B-Que Vinaigrette
SUB MAHI-MAHI
SUB GRILLED CHICKEN BREAST
Burgers & Sandwiches
SERVED WITH NATURAL-CUT FRIES OR HOUSE-MADE TOTS
OKLAHOMA ONION BURGER*
Beer Onions, American Cheese, Lettuce, Tomatoes, Pickles
BLUETICK BURGER*
Lettuce, Tomatoes, Onions, Pickles
SOUTHERN GENTLEMAN*
Wagyu Beef, Fried Green Tomato, Bourbon Onion & Tomato Jam, Pimento Cheese, Secret Sauce
TURKEY SHOOT BURGER*
Turkey Burger, Pepper Jack Cheese, Buffalo Onion Rings, Lettuce, Tomatoes,
Onions, Habanero Mayo, Pickles, Hawaiian Bun
ADD-ONS
BACON
FRIED EGG*
PIMENTO CHEESE
WAGYU CHILI
SUBSTITUTE
BEYOND BURGER™ Ⓥ
GLUTEN-FREE BUN ⚑
All burgers are cooked medium unless otherwise specified.
PULLED PORK BAR-B-QUE SANDWICH*
Vinegar Slaw, Pickles, Potato Bun
KISS MY COUNTRY GRILLED CHICKEN SAMMICH
Balsamic Marinated Chicken Breast, Jalapeño & Peach Jam, White Cheddar, Red Onions, Arugula, Ciabatta Roll
I'LL NAME THE DOG "CUBAN"!
Pit Ham, Pulled Pork, Pickles, Pimento Cheese, Honey Mustard, Cuban Roll
SOME BEACH FISH SANDWICH*
Chef Seasonal Select Fish, Nashville Hot Spice, Bread & Butter Pickles, Lettuce, Tomato, Onions,
Tartar Sauce, Sesame Seed Bun
AUSTIN BRISKET SANDWICH
Smoked Brisket, Chorizo Hot Link, Vinegar Slaw, Onion Straws, Pickled Okra, White Bar-B-Que Sauce,
Ciabatta Roll
Entrees
BAR-B-QUE GATOR WINGS
24-Hour Brine/Smoked Alligator, Tishomingo Potato Salad, Vinegar Slaw, Orange Bar-B-Que Sauce
DIVE BAR TACOS*
Fried Shrimp or Chef Seasonal Select Fish, Vinegar Slaw, Avocado Smash, Jalapeños, Cotija, Rotel™ Tomatoes, Habanero Mayo, Bar-B-Que Street Corn, Flour Tortillas
HILLBILLY BONES SMOKED HALF RACK*
St. Louis-Style Ribs, Tishomingo Potato Salad, Onion Straws,
Chili Spiced Bar-B-Que Sauce
OLE RED SMOKED MEAT PLATTER
Smoked Brisket, Chorizo Hot Link, St. Louis-Style Ribs, Grilled Corn, Tishomingo Potato Salad, Vinegar Slaw, House Pickles, Red and White Bar-B-Que Sauces
Slides to Share
NATURAL CUT FRIES ❦
Velveeta™ Beer Cheese
HOUSE-MADE TOTS ❦
Velveeta™ Beer Cheese
HONEY-DRIZZLED SKILLET CORNBREAD ❦
Whipped Honey Butter
BAR-B-QUE STREET CORN ❦
Bar-B-Que Sauce, Cotija, Cilantro
SIDE SALAD Ⓥ ⚑
Romaine, Iceberg, Shredded Carrots, Tomatoes, Cucumbers, Choice of Dressing
TISHOMINGO POTATO SALAD ❦ ⚑
VINEGAR SLAW ❦ ⚑
EXTRA VELVEETA™ BEER CHEESE
Desserts to Share
S'MORES BROWNIE SKILLET
Fudge Brownie, Graham Crackers, Toasted Mini Marshmallows, Vanilla Ice Cream
BANANA BREAD PUDDING
Vanilla Anglaise, Whiskey Butter Sauce, Candied Pecans
Kids Menu
Served with choice of French Fries or House-made Tortilla Chips and choice of beverage
MAC 'N' CHEESE
CHICKEN TENDERS
CHEESEBURGER
MINI ALL-BEEF HOTDOGS
GRILLED CHEESE
BEVERAGES
FEATURED PEPSI® PRODUCTS
COFFEE
ICED TEA
RED BULL ENERGY DRINK
Late Night Snacks
10PM-12AM Friday & Saturday Nights
LATE NIGHT MUNCHIES
House Fried Tortilla Chips, Chipotle Salsa, Velveeta
Beer Cheese & Avocado Smash
BIG ASS PRETZEL
Bavarian Style Soft Pretzel, Velveeta Beer Cheese
NASHVILLE HOT PORK RINDS
Flash Fried, Tossed in Nashville Hot Spice,
Pimento Cheese, Ranch
REDNECK YACHT CLUB FISH DIP
Smoked Mahi-Mahi, Pickled Jalapeno's + Red Onions,
House Fried Tortilla Chips, Sriracha
OLE RED SLAW DOG SLIDERS
Trio of Mini All Beef Hot Dogs, Wagyu Chili, Vinegar Slaw
This page is brought to you by Orlando Villas specialist ExclusivePrivateVillas.com