A Solara Resort Villa will create a vacation for the entire family to remember! Its amazing on site amenities include a surfing simulator, Club House, Volleyball Courts, Soccer pitches and Basketball Courts! This resort is just 7 miles away from the World Famous Walt Disney World! Not to mention all of Orlando's incredible theme parks!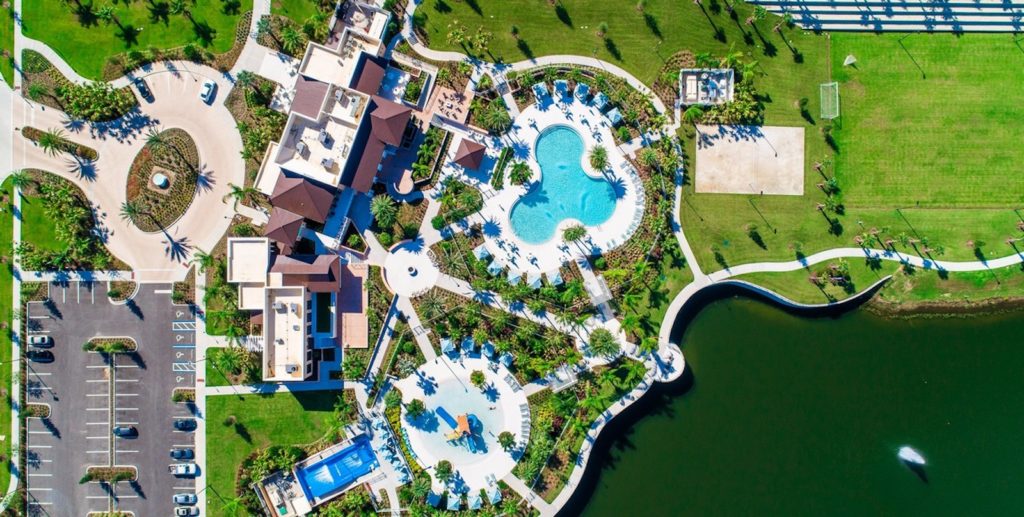 About Solara Resort
Picture a stunning landscape of manicured gardens, lined with palm trees and adorned with a big blue lake! This sets the scene for what is one of Florida's most stunning private resorts. Luxury Solara Resort villas are the ultimate choice for the discerning Disney tripper.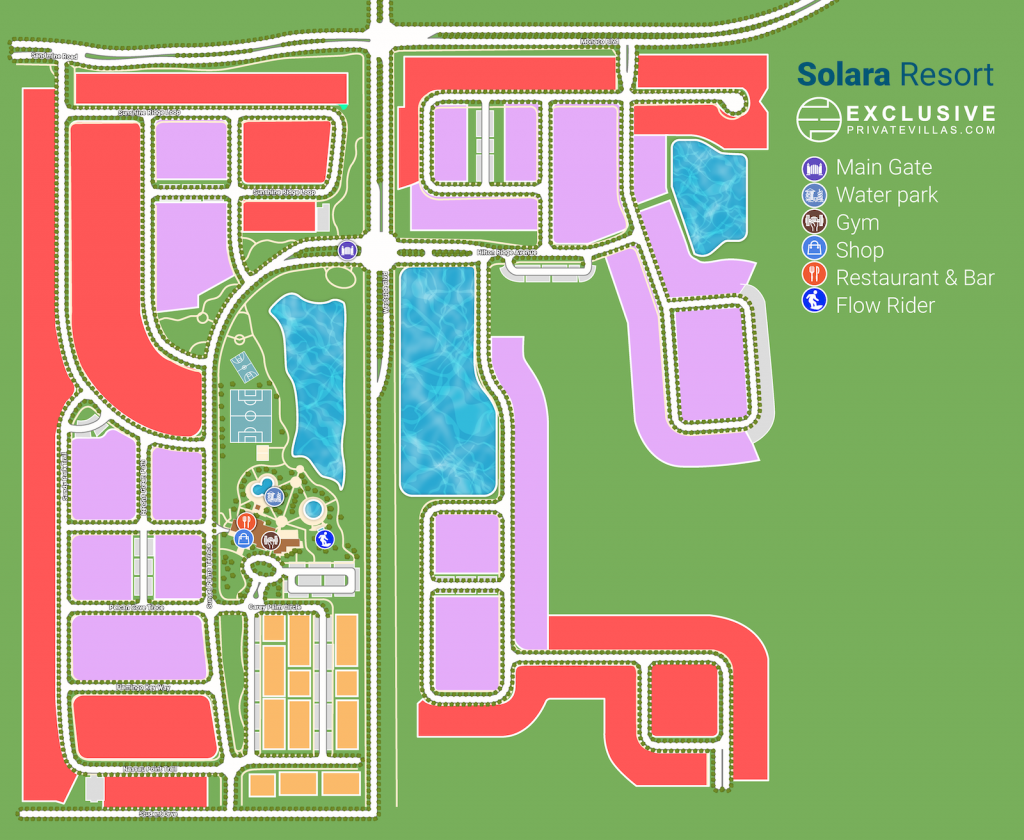 Our Luxury Solara Resort villas are set into quaint streets, all beautifully manicured and idyllic. The lake reflects palm trees and a deep blue sky that's almost always perfect. Most of the resort is covered in grass, some enhanced by flowerbeds and ornate lamp posts. Others reaching to the shores of the lake and up to the gardens of regal villas standing peacefully under the sun. Solara is intensely peaceful.
But what about Disney?
All of that serenity is just minutes from the vast city-sized Walt Disney World Resort! Also an ideal location just moments from Highways 27 and 192 as well as Insterstate 4. You're always only a short drive from Universal Studios, Legoland and vibrant Orlando.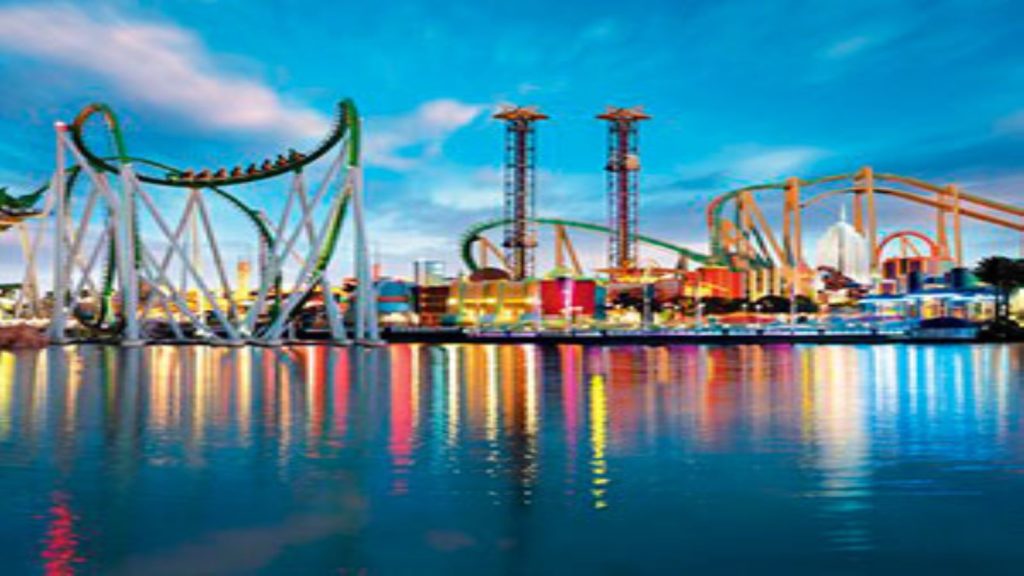 Amenities at Solara Resort are great for all the family, eclectic and with lots to do. Furthermore, it stays true to the "gated community" like ambience of the resort. There's a splash park, zero entry swimming pool and flow rider surfing simulator. Play all day on one of the basketball courts, football/soccer pitches, volleyball courts. Relax around the fire pit at the clubhouse with luxuriously appointed interiors and a covered terrace, with views of the pool area.
Food and drink options at Solara include the Bar and Grill, a cocktail bar, ice cream parlour, and a sundries shop. The resort's convenient, well-connected location means that all of the restaurants and bars of nearby resorts such as ChampionsgGate and Reunion are also easy to access. In addition, the world-class restaurants in Downtown Orlando and Kissimmee are just a matter of minutes away.
Solara Resort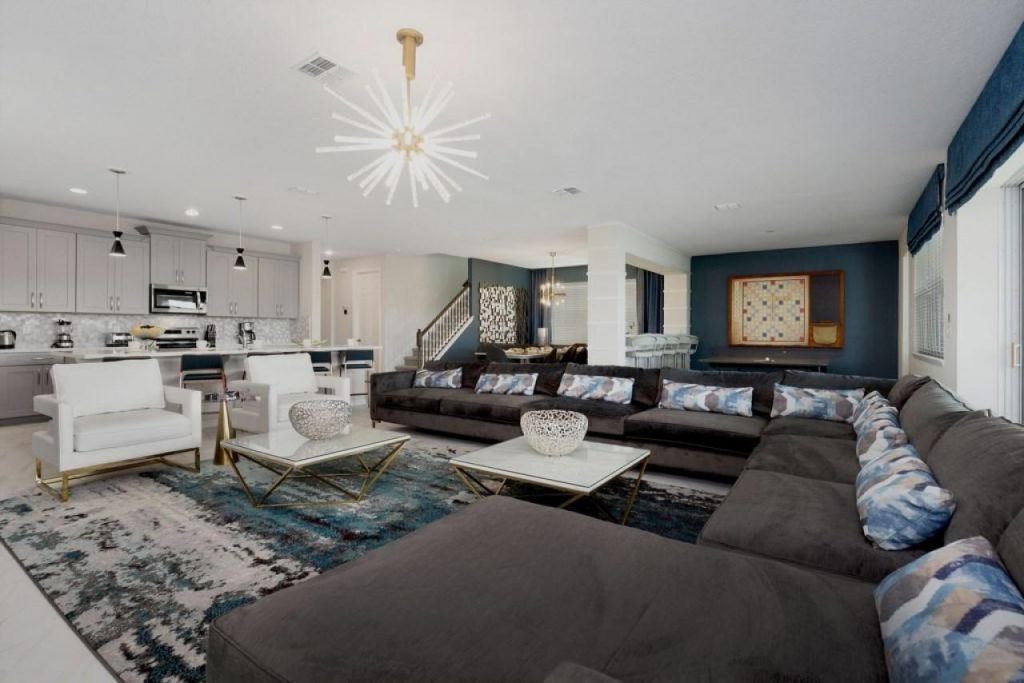 Our Luxury Solara Resort villas provide the very best in luxurious living. You'll find indulgent interiors finished to exquisite standards, large family kitchens and living areas perfectly suited to entertaining large families. Kid's will be in their element with their Disney-themed bedrooms. Enjoy large bedrooms with en suites and couples sinks, and extras like home cinemas, games rooms and large covered pools with spillover spas.
Our Solara vacation villas provide an idyllic Florida vacation experience in a beautiful gated community. With the additional bonus that it's just minutes from magical attractions like Disney and Universal Studios.
Restaurants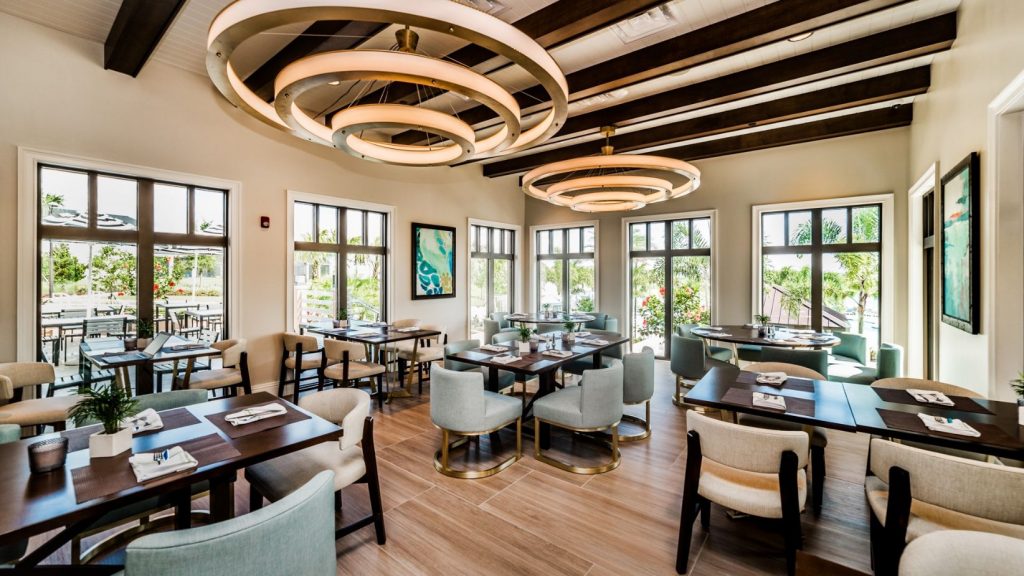 While not brimming over with restaurants, Solara Resort has one very good grill restaurant and a poolside splash bar. They are just as perfect for family dinners as they are for lazy days spent cocktail in hand by the pool.
Solstice Bar And Grille
The Solstice Bar and Grille offers a laidback, yet elegant dining option. Built into the attractive interiors of the resort clubhouse, you'll find delightful views out over the pool.
The menu is comprehensive with something for every taste. You'll find starters and salads like coconut shrimp baskets filled with fries, Dubliner Rolls and Luau Salads. Then there is pizzas and handhelds like burgers, tacos, BBQ Pork sandwiches and buttermilk battered chicken! All of which are perfectly cooked and delicious. Kids can choose from a small menu of classics and finish up with key lime pie, ice cream of chocolate chip cookies.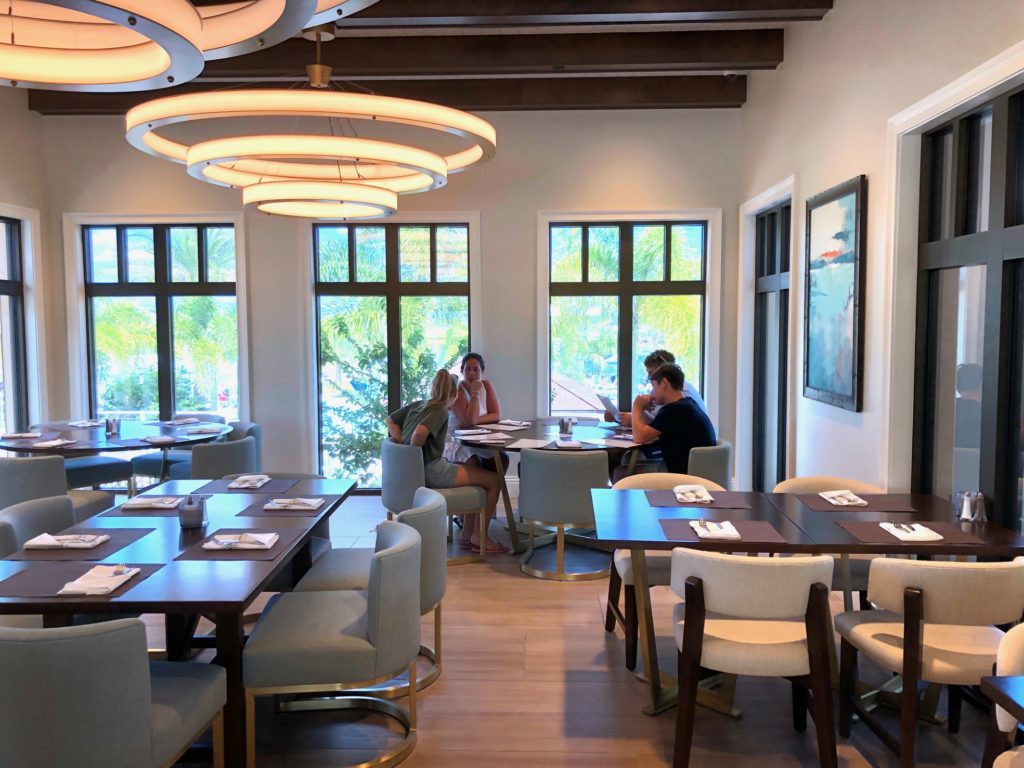 For those wanting to indulge in a cocktail or two, you'll find a nice menu of tropical themed cocktails. Try reworks of classics like the Mattamai Tai with rum, triple sec, orange, pineapple and cherry. Or the the Pina Florwider, made with Rum, coconut, pineapple and finished with a rum float. There's also a wide selection of beers and alcohol-free cocktails.
Restaurants Close To Your Solara Resort Villa
Another convenient option is the vast ChampionsGate resort that boats an impressive collection of restaurants. You'll fin intimate fine dining restaurants, laidback cafes, delis, Italian cuisine and Chinese cuisine. In addition you can visit familiar chain restaurants such as Subway, Dunkin' Donuts and McDonalds.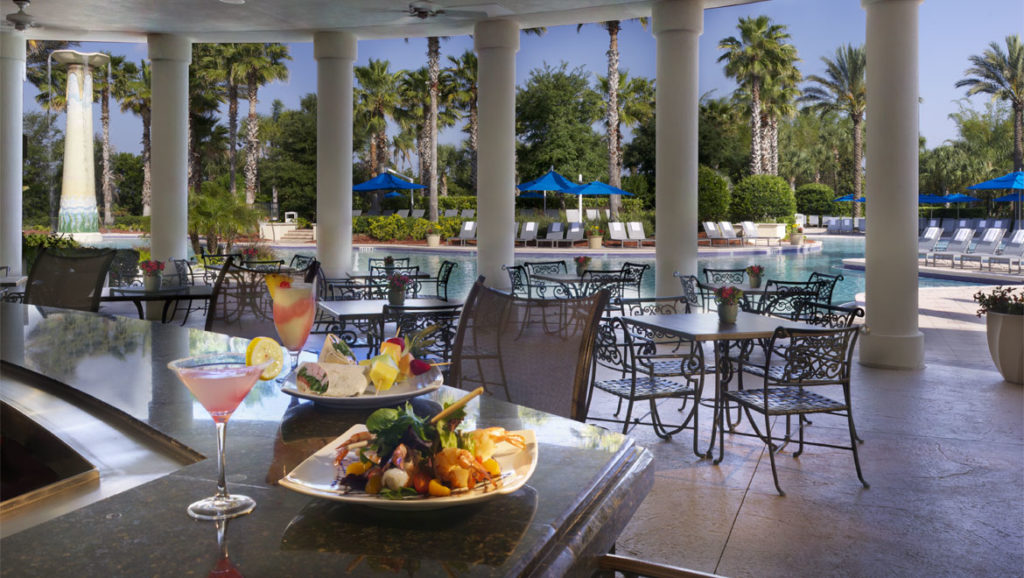 For everything else, you'll find shopping malls such as The Mall at Millenia, The Florida Mall and The Outlet Mall are all just a few miles away.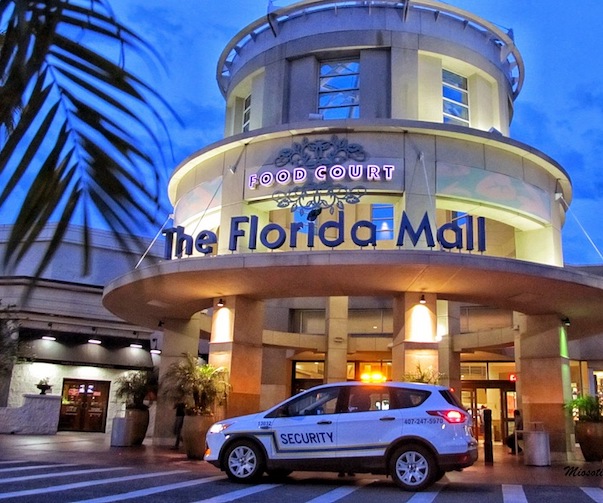 Golf At Solara Resort
Golfers are in luck as Solara Resort is within minutes of a year's itinerary worth of golf courses. Try nearby ChampionsGate for two championship courses. One links style and the other American. Or, why not venture to the stunning Highlands Reserve Golf Club which sits atop some of Florida's highest points. It boasts breathtaking views of the entire Florida area. Rest assured that Golf is only minutes away from you Solara Resort Villa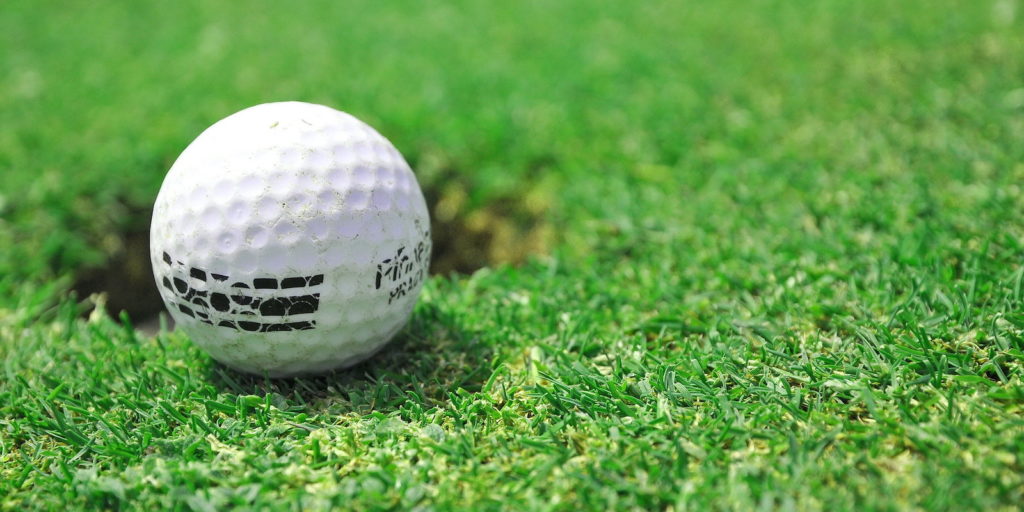 If you'd prefer to have full access to a golf course while on vacation then consider staying at the incredible Reunion Resort. Along with three pro-designed golf courses with paradisiacal lakes, rolling fairways and lush woodlands, it also has one of the most impressive collections of luxury amenities and family villas in the Florida area.
Swimming Pools And Spa at Solara Resort
The zero entry swimming pool at Solara Resort is shaped a little bit like a fidget spinner or if you prefer, a three leaved clover. It's fringed with private cabanas and sun loungers. Furthermore, the kids pool has a large central play area that is absolutely perfect for smaller children.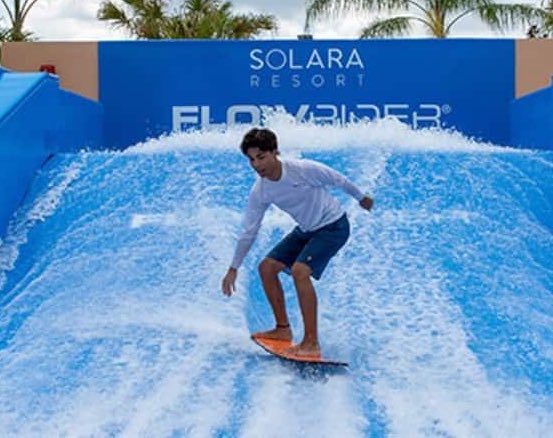 Right next to the kids pool you'll find a surf simulator, the Flow Rider! You can experience the exhilaration of surfing or wake boarding in a safe and guided environment. The Flow Rider also has a group of competition level experts on hand to offer advice and assistance. Therefore, making it suitable for guests of all ages and skill levels.