Outlets in Orlando Near Seaworld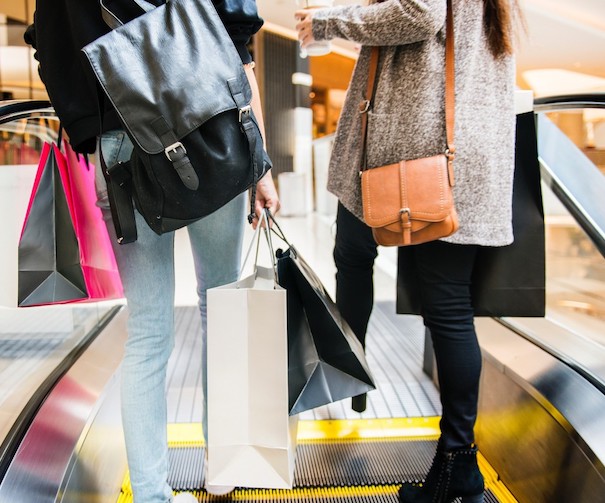 It doesn't matter where you go in the world; some of us just like to shop. If you are taking a holiday of a lifetime to Orlando just see such sites as Disney World and SeaWorld, you might wonder if there is any excellent shopping to be had. If you need a break from all the attractions and just want to spend a few hours browsing the Mall and getting some rest and relaxation in the form of retail therapy, with a cup of coffee thrown in, there is certainly plenty of choices. Orlando is famed for its outlet shopping, and there are several outlets close to SeaWorld. Here is the lowdown on some of the best retail outlets in the area
Orlando Vineland Premium Outlets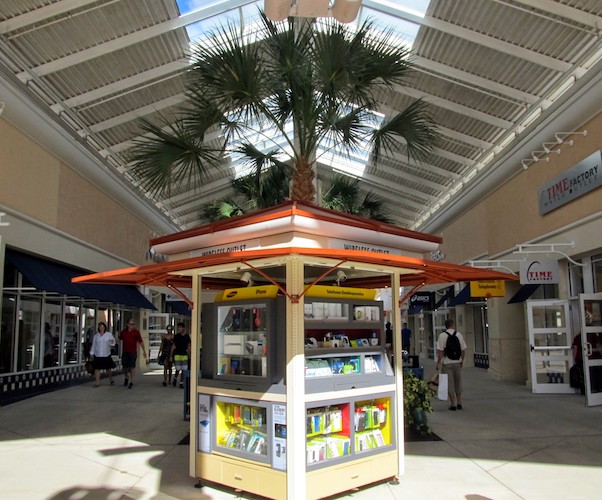 Located near to SeaWorld and Walt Disney World this is an absolute delight for outlet shopping. It is equally popular with the locals as well as the tourists, and you can and bag some fantastic bargains with up to 65% off retail prices.
Within the outlet, you will find many famous names such as Jimmy Choo, Burberry, Armani, Prada, Marc Jacobs, Bally, and Versace. It is a large site with hundreds of stores as well as a range of amenities making this somewhere you can easily spend a day. While there is a reasonably heavy dominance towards clothing and shoes, you will also find a range of homewares, gifts, and other stores. You will find Disney outlet, just in case you haven't seen enough of the brand, but remember this is an outlet, so plenty of bargains to be had. There are mobile phone stores, a Le outlet, jewelry outlets, and even Ford's Garage; but don't let the name fool you this is actually a prime burger and beer bar and worth a visit. With over 160 stores, there is undoubtedly something for everyone and plenty in the way of refreshments if you want something other than a beer and a burger.
Orlando Vineland Premium Outlets is open seven days a week from 10 AM to 11 PM.
Orlando International Premium Outlets
Orlando International premium outlet is actually the largest in the area and measures that as a whopping 773, 58 6 ft.² and it is estimated that each year over 17 million visitors come through the doors. It is just five minutes from universal and about 15 minutes from Disney, making it slightly further out from SeaWorld but not impossible. There are over 180 outlet stores again featuring big-name brands and a chance to grab some real bargains with up to 65% off of standard retail value. Again, there is plenty to do to occupy a whole day with amenities such as wheelchair rentals, ATMs, charging for electric vehicles, the ability to hire pushchairs, and valet parking.
If you get hungry during your visit you have 20 different dining outlets, including a full-service Italian restaurant and many other international cuisines are including the taste of Brazil and Latin America. There is plenty on offer for children and if you just fancy a burger and a fizzy drink that is no problem either. You will find such names in the shopping side of the Mall as Tommy Hilfiger, Michael Kors, Saks Fifth Avenue Off Fifth, Karl Lagerfeld, Nike, Under Armour and Victoria Secrets.
Orlando International Premium Outlets is open seven days a week from 10 AM to 11 PM.
The Mall at Millennia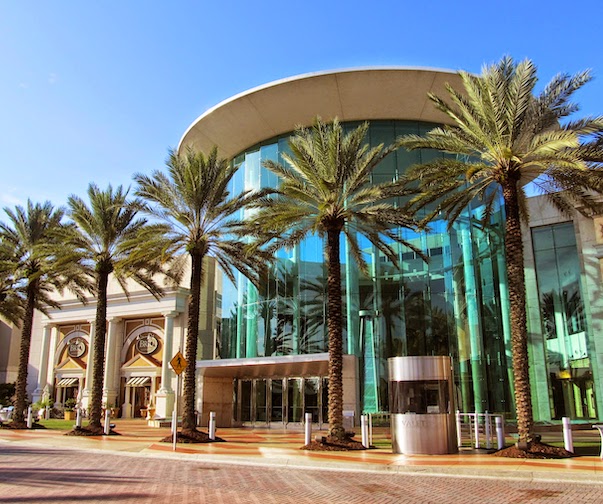 The Mall at Millenia is another 150-store outlet mall and features 40 exclusive stores. Here you will find Louis Vuitton, Tiffany and Co, Apple, Ted Baker London, Abercrombie and Fitch Macy's and Bloomingdale's plus many, many more. It is reminiscent of a casino on the Las Vegas strip with giant palm trees and lights all along the front. It has floor-to-ceiling glass and even glass in the ceilings it is a totally unique and stunning location that has won awards. Again, on the second floor, you will find the food mall, which includes places like the cheesecake factory, PF Changs, the Capital Grille and many more. For your dining pleasure, you can book your table and received a text message when it is ready for you so that you don't have to stand and wait. It has the usual concierge services including valet parking, wheelchair rental, pushchair higher and the building has been set up for those who are not as mobile.
The Mall is open seven days a week from 10 AM to 9 PM Monday to Saturday, and 11 AM to 7 PM on a Sunday individual stores and restaurants may vary from time to time.
The Florida Mall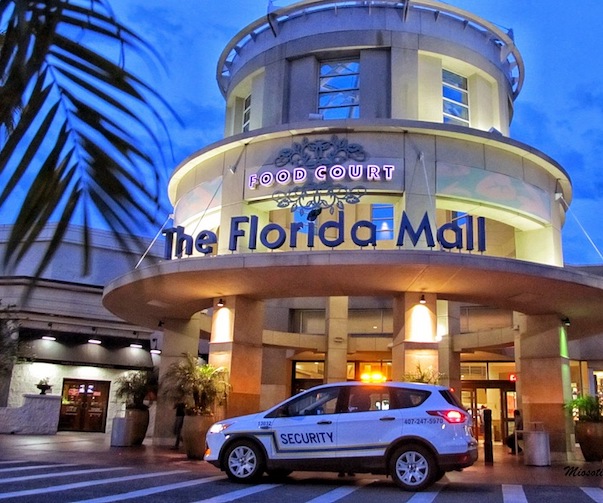 Another huge shopping site, the Florida Mall also has some added attractions making this an excellent place for a family day out. The Mall itself features more than 250 shops and has a large hotel accessible from inside the venue so you can literally shop till you drop if it takes your fancy. There are many big names available for you to choose from including Tesla, A|X Armani Exchange, Microsoft, Apple, H&M, Michael Kors, Mayors Jewellers featuring Rolex, Morphe, Victoria's Secret and ZARA. Situated within the complex, there is the Crayola Experience which is great for kids; you can see how crayons are made and even design your own. For chocolate lovers, there is the M&M World where you can get your hands on the fun and characterful chocolate or peanut treats. There is also a Disney Outlet where you can save some serious spends on a range of their best products.
The Florida Mall is well set up and has plenty to see and do, with a range of food outlets, as well as hire facilities for strollers and wheelchairs making this totally accessible for all. It has a bus route as well as a sizeable onsite carpark with a valet service if you fancy cutting down on your walking time.
The Florida Mall is open Monday–Friday from 10 AM to 9 PM, Saturday 10 AM to 10 PM, and Sunday, 12 PM to 8 PM.
Villa Rentals nearby