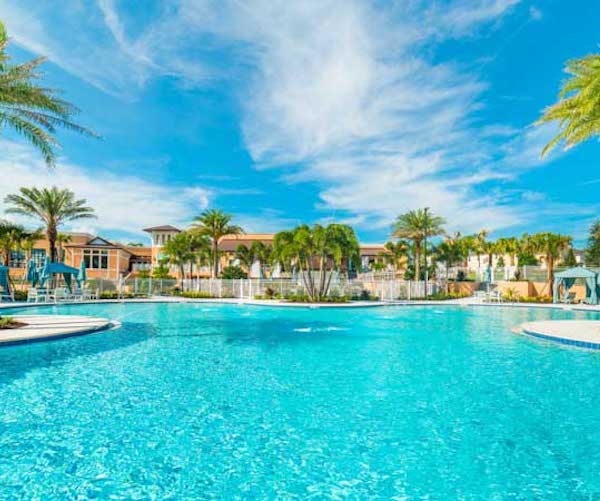 The Resort
Solara is one of the many gated resorts that are located near all the major theme parks and entertainments. It is also somewhere that offers plenty to do if you are sick of traveling and fancy a day of quieter fun. There is a clubhouse and guest pool that has a range of poolside cabanas and a state-of-the-art Flow Rider machine for honing those surf skills. For the younger guest, the splash pad offers cooling fun in the sun.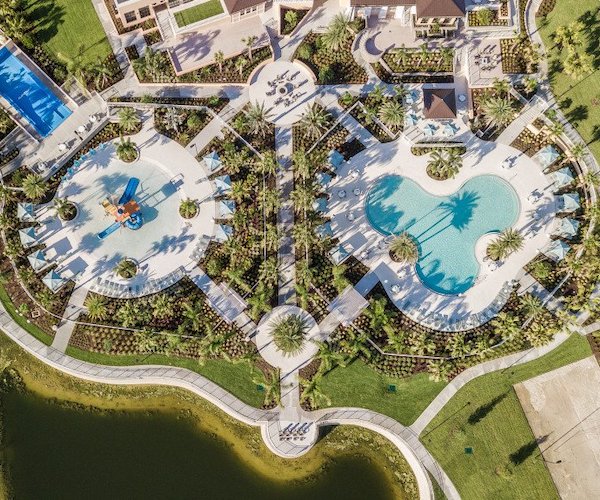 You will also find a well-stocked fitness center and the opportunity to play soccer on the full-size pitch or basketball and sand volleyball depending on what takes your fancy. If you get hungry then is a cafe and coffee shop that offers 'grab n go' service for those in a hurry. If you want to dine with time, the bar and restaurant have some lovely offerings. Finally, if you have some reluctant holidaymaker teens and tweens send them over the hangout club where they will find others just like them! Solara is just 15 mins from Disney World, and there is a shuttle service if you want to avoid taking a car.
Overview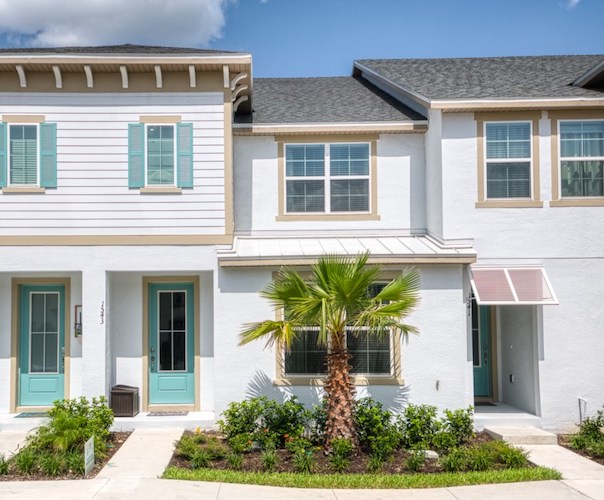 Located on the impressive Solara resort this villa is perfect for a smaller family group or perhaps two families happy to share. Modern and feature-packed, there are four bedrooms in this luxury holiday rental home. This means there is space for nine people to sleep and plenty of space for chilling out and relaxing when you are not charging around the various theme parks in the area. Two of the kids' rooms are themed, meaning they are going to love sharing a room with Lego superheroes or everyone's favorite mouse.
Outside you will find a private swimming pool, framed with a patio decking making it the perfect location to top up your tan or relax by the water with a glass of wine after the little ones have gone to be. Florida makes for some very appealing alfresco living so be sure to enjoy it while you can. There is also an upper floor loft area which is the perfect place for the kids to unwind without parents looking over their shoulders and comes fully furnished with a PS4 games console to keep them entertained while you throw some sausages and burgers on the BBQ. The lounging area is covered in part so you can move out of the direct sunlight, but don't forget the sun cream. It is a safe area, and you can see the kids at all times when they are playing around the pool. The back gate makes it impossible for them to wander off, which gives you peace of mind.
The Villa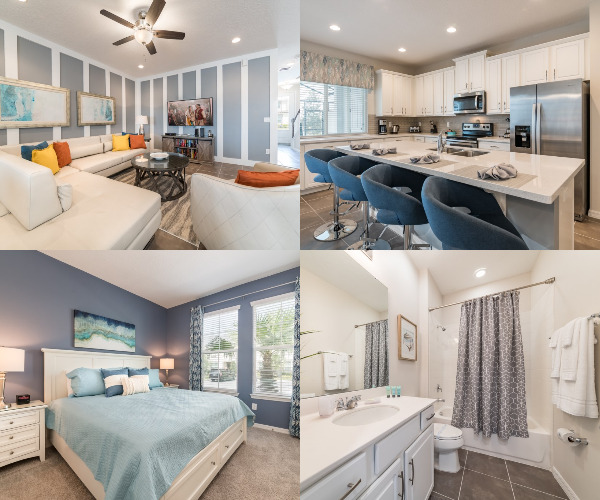 On the ground floor, you will find a king-size bedroom and a family bathroom that features a bath with shower over, perfect for the grandparents to have that bit of distance overnight when mum and dad can take care of any night waking! There is a flat-screen television, and you have WIFI access free to use. On the first floor, the Master is another king-size, this time en-suite with a shower cubical and twin vanity unit. Again, you have the wife and television, perfect for breakfast in bed while you catch up with your socials. Next, you have the kid's rooms, and who gets what we will leave you to sort. In Mickey's room, you have a full-size bottom bunk with a single above, and in the block room you have the same, but with the addition of a pull-out trundle bed for the extra guest. These rooms can share the family bathroom that comes with a shower. The kids' rooms also have televisions and WIFI so you can grab a break whenever you need, and they can watch the Disney channel or something else from the vast selection on offer.
Heading back downstairs, we have a true home from home living with fresh and modern decor. In the spacious lounge area, there is a huge leather sofa with so many seating options and a leather recliner perfectly place for some tele watching before bed. The living area has a large flat-screen television for your viewing pleasure mounted on the wall. Should you wish to cater for yourselves, the kitchen comes fully equipped with a fridge/freezer, oven, dishwasher, microwave, toaster, coffee maker, blender and more. Plenty of space for preparing packed lunches or even a more formal dinner. If you want to splash out, you can hire a chef from the resort who will come to your villa and cook the meal as you relax and watch. Failing that you can get takeout and have plenty of space to eat. There is also a four-seater breakfast bar for your first coffee of the day, and the coffee maker will waft around the house and infuse your wake-up call with the delicious smell of freshly roasted beans. The more formal dining area has four seats and bench which might fit all nine of you at a push but is a great feature that many will find useful.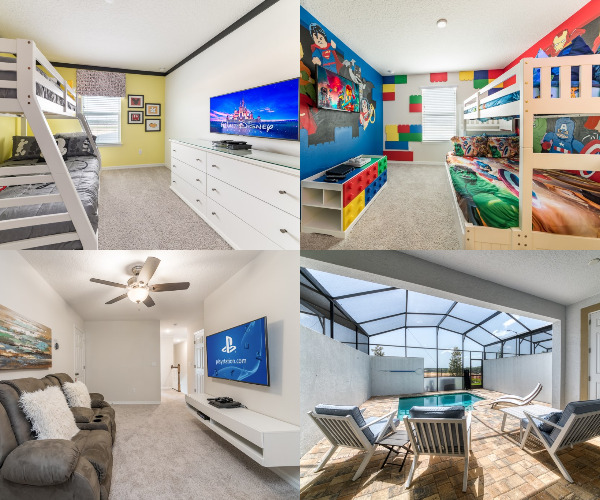 The upper loft area is perfect for a home movie night with two recliners and of course, the PS4 as mentioned above, perfect for a man cave or somewhere to pop the kids for a lazy Sunday afternoon. The swimming pool is small but perfectly formed and with families in mind has the addition of a child safety fence. You can also have the water heated if it's not warm enough for you. There are two sun loungers, two patio chairs, and a love seat, so again plenty of space to relax. There is also a half bathroom attached to the pool to save everyone having to traipse back into the house. If the Florida heat gets too much the air-conditioning will cool you down, and should you really want to feel at home there is an onsite laundry facility to keep things real.