A Guide to Disney's Magical Dining 2022
Magical dining is an annual event that takes place in Disney World every autumn usually at the end of October through to September. Many of their restaurants take part, and that's often up to 120 amazing outlets for you to choose from. So, let's take a closer look at how Magical Dining 2022 will work. The 2022 event will run from Friday the 27th August through Sunday, October 3rd, and features more than 80 restaurants throughout Orlando and the surrounding area.
What is Magical Dining Month?
In the autumn months as people return to school, dining outlets can get quieter, so this is a good way to drum up actual business and it is also a chance for Disney to contribute to charity. The system runs on a fixed $35 fee, and of the over 80 venues taking place this year, you will find three or more course meals for this price. Each meal ordered donates a dollar to charity and from a customer point of view it gives you a chance to experience some restaurants you may not otherwise have been in due to the prices on the menus.
Obviously, the eatery is at liberty to only offer certain menu choices for that $35 but you will still get to experience many amazing dishes from all over the world. All the menus are available in advance as well as a list of the restaurants participating. And you can search through them by using key criteria such as vegan, gluten free, vegetarian an more you can make your reservation through OpenTable so everything will be done and waiting when you arrive.
Book in Advance
You do not have to use the OpenTable app, but it is a very popular event and things can get busy. So, you should always be sure to book in advance and make a reservation. Remember this event has been crafted specifically to ensure the restaurants stay busy. As with most dining in Disney the tip and taxes not included in your bill and the fee is heavily discounted in many cases for the event so be sure to tip well. If you book a table be sure to request the Magical Dining menu when you meet your waiter, as many of the restaurants will still be serving their normal offerings, so you want to be sure you get the $35 meal. That said, you can also purchase extras with many of your meals depending on the menu, and add-ons will be shown. When it comes to charitable donations the beneficiaries vary, but $1 from every meal ordered is given and in previous years visually impaired children, benefit suicide prevention in teens, greater Orlando and lighthouse Central Florida have all benefited. In 2018 over $250,000 was raised.
Some of the venues taking place:
The Osprey Tavern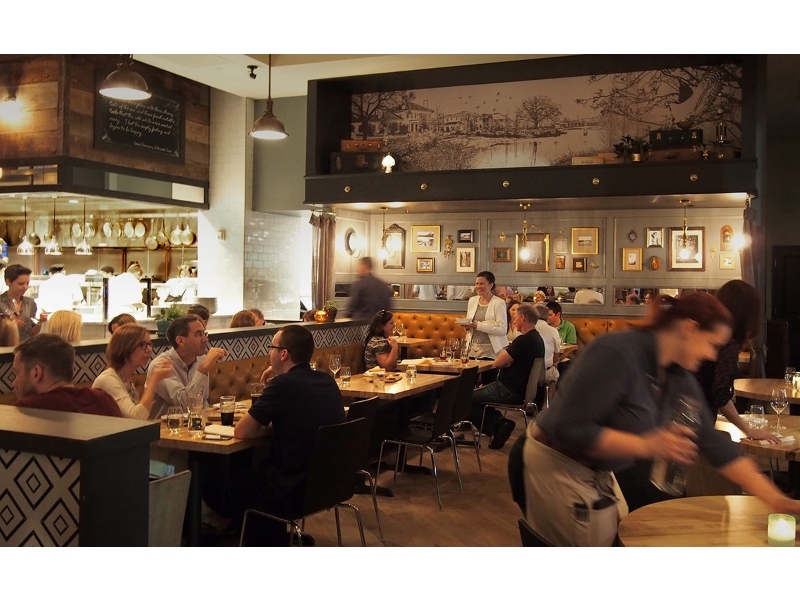 Famous for New American style cuisine they also serve fine wines, craft cocktails and seasonal microbrews and this is a brasserie style setting possibly suited to adult diners. With dishes such as crispy pork belly, braised short rib, smoked trout and seasonal vegetables there is certainly plenty to tempt you.
Hamilton's Kitchen at the Alfond Inn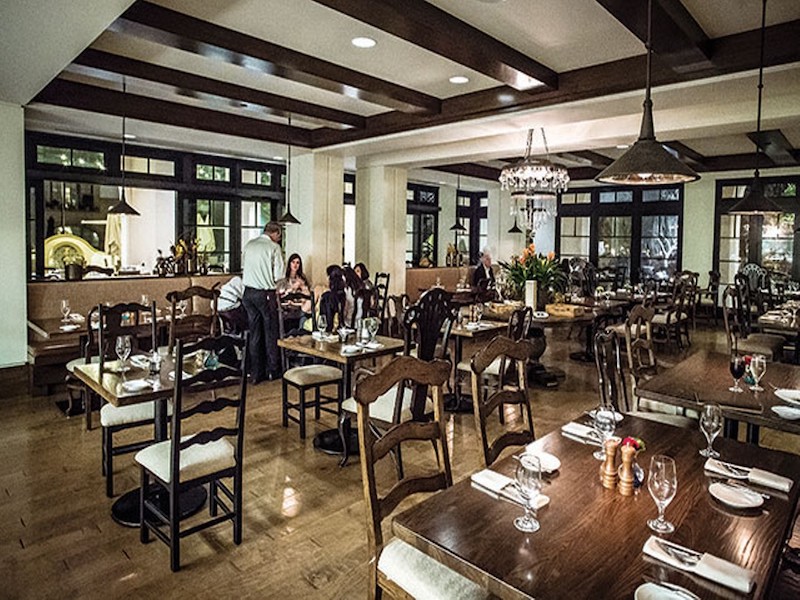 Finest southern style cuisine, the menu has a delightful local agricultural undertone, the venue has a rustic look and feel, with heavy farmers tables open fires and a good old-fashioned atmosphere. The menu includes things like cranberry Waldorf salad, Hamilton shepherd's pie, Macallan Scotch pudding, and compressed watermelon
Texas de Brazil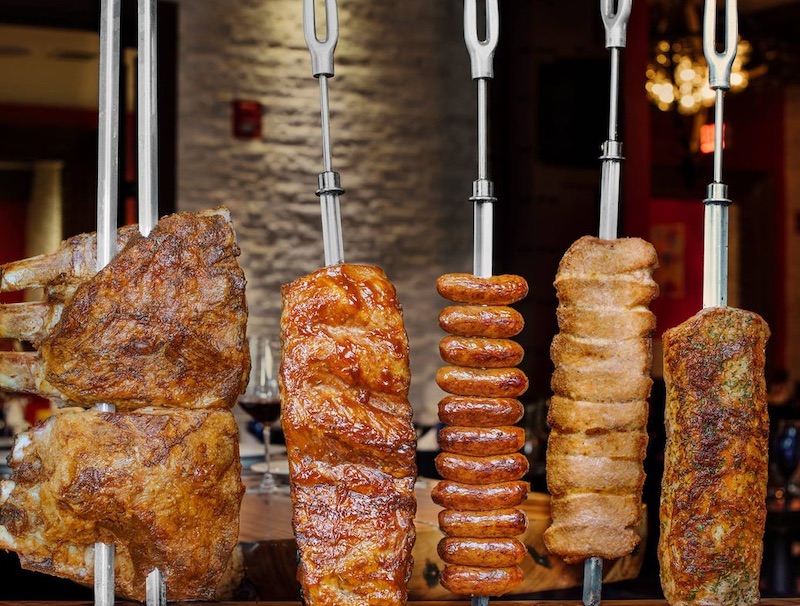 A less formal dining experience in Brazilian cuisine. A traditional feast known as churrasco which was eaten by local Cowboys who were called gauchos. Of course, this has been slightly more refined, and features slow roasted meat and various vegetable dishes. The meats are served tableside and carved by your chef at the table. You also have access to a range of delicious sides like cheesy garlic bread, garlic mashed potatoes and fried bananas. The restaurant operates a stop/go card system, if your card is at red, they will leave you alone to eat, but should you want some more simply turn over your card to green and your servers will appear with more food. Cheese from such delights as barbecue pork ribs, lamb chops, leg of lamb, chicken breast wrapped in bacon, Parmesan crusted pork loin and more.
Big Fin Seafood Kitchen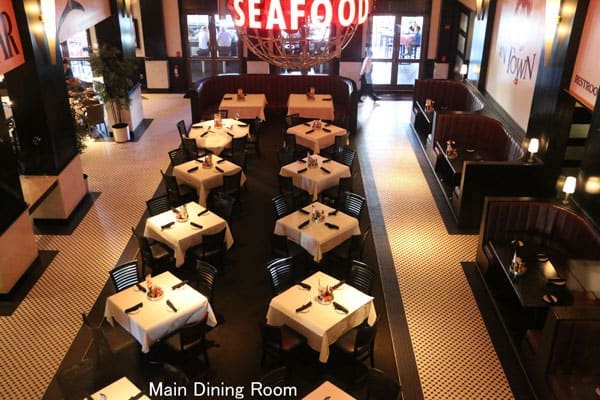 This is an award-winning seafood eatery located in Orlando so as you might imagine there is a heavy influence on crustaceans and scallops, crayfish, and more. They serve a decent surf and turf which is gluten free and comes with a 5-ounce fillet steak and a three-ounce lobster tail and you also get garlic mashed potatoes and asparagus with that. The menu is varied, with French fries, coleslaw, spinach, mushrooms and more. For dessert they also offer the very delicious vegetarian Ooey Gooey which is a layered pie cake and it is topped off with cream and seriously not to be passed over.
Jaleo at Disney Springs
Located within Disney Springs and bought you by the famous chef Jose Andres Jaleo, this Spanish tapas style restaurant is an amazing find. The menu is complemented with the finest sangrias and Spanish wines as well as many different sherries and cocktails. The menu offers five different types of tapas on the Magical Dining experience, including chicken fritters, fried bacon wrapped dates, and shrimp sautéed with garlic. A total delight for all.
Rocco's Italian Grill and Bar
If you are looking for something with a more Italian theme, then just 10 minutes outside downtown Orlando, in Winter Park, you will find the romantic Rocco's. Authentic Italian food is prepared and delivered to your table by the finest chefs who hail from the region. There is a wide choice on the menu, and it can be accompanied by many of the fine wines that also come from Italy but there are California wines should you prefer. You can choose from the bruschetta of the day, fish of the day, boneless beef short ribs, veal scaloppini pan seared, shrimp, scallops and more
So, if you are planning on heading to Orlando during the Magical Dining Experience there is certainly masses for you to checkout, and you can eat out in a different continent every night for a very reasonable price whilst also contributing to charity. We hope you enjoy Magical Dining 2022.