The multi-acre water park provides a fantastic tropical oasis just a short stroll from the Reunion Grande, whilst the resort's eleven swimming pools are each strategically placed to ensure that you are always no more than a few minutes away from a pool, regardless of which neighbourhood you choose to take residence in. But better still, many of our Reunion Resort vacation rentals come with their own private swimming pools, some wrapped around an outdoor terrace, and others landscaped and primly furnished to create the perfect private sanctuary for your Reunion Resort getaway.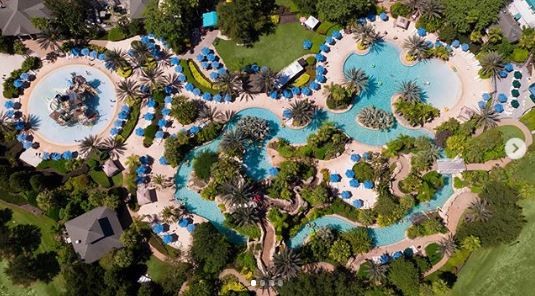 The highlight of the water park is the mile-long lazy river that guides one through a peaceful rocky terrain broken up by tunnels and waterfalls that are finished with lush fauna, and best enjoyed floating lazily atop a rubber ring, staring skywards whilst taking in the paradisiacal Florida climate and the ambience of the resort. Additionally there is grill restaurant and poolside cocktail bar for all your between swim requirements.

Swimming pools are scattered across the resort, with Heritage Crossing North & South being two of the best options for families, with a hot tub for the adults in the northern pool and a shallow pool for the kids in the south pool. But athletic swimmers should choose instead The Terraces pool which is perfect for laps and has a picnic and barbecue area. But perhaps the most impressive of the pools is perched atop the apex of the Reunion Grande. Its sleek design and impeccable poolside service made all the better by the sweeping Florida views.