We just rode the awesome new Tron Ride at Magic Kingdom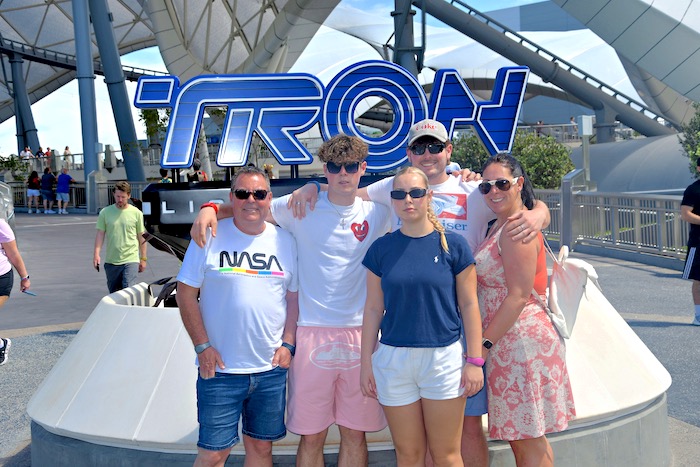 Are you ready for an adrenaline rush? Enter a world of neon lights, pulsing beats, and high-speed action as you make your way to the new Tron Ride at Magic Kingdom. I've got to say that this is probably entering into my top 3 Disney rides but lets explore what happened today.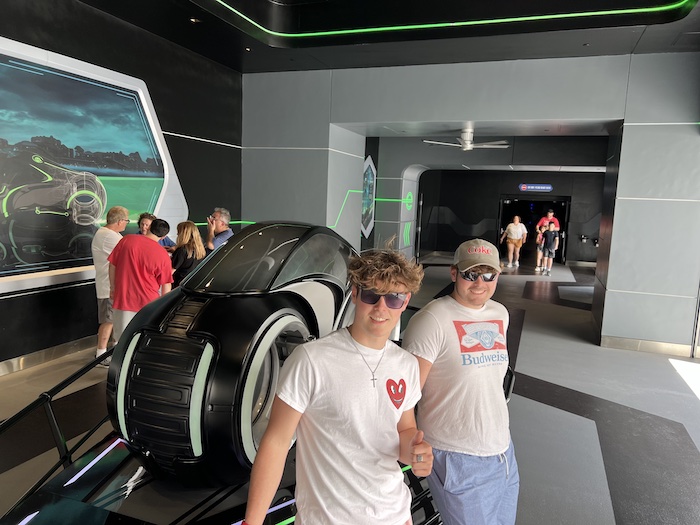 We heard that the new Tron ride at Magic Kingdom opened last week so we really thought it would be impossible on this blog trip to experience it but my Mum (and Disney Queue Yoda), Kerrie Potts (CEO of our villa business Exclusive Private Villas) woke early again to use the Disney World App to join the virtual queue and hey presto – she did it….AGAIN (see our Guardians of the Galaxy Blog from Nathan).
We were placed in group 41 of the virtual queue and by 9AM we could see that they were already accepting groups 1 to 19 on the ride so we quickly finished up our breakfast in the Villa and headed off to Magic Kingdom.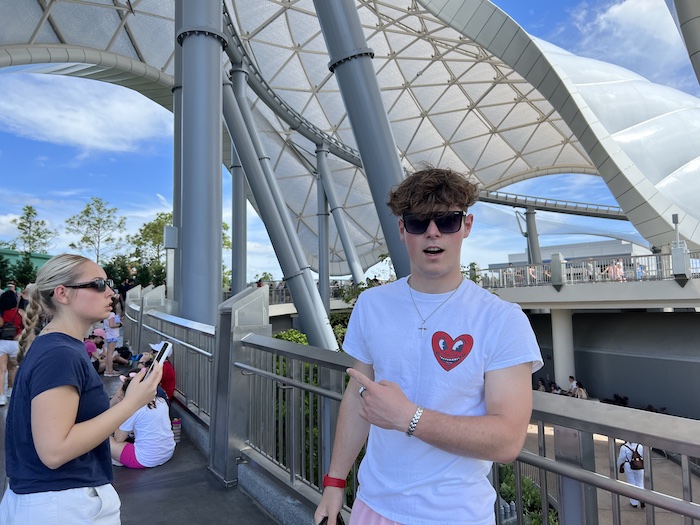 The new ride is placed in Tommorow Land, right next to Space Mountain and so we followed the glowing pathways and immersed ourselves in the futuristic world of Tron. Before you climb aboard the ride, you are encouraged to empty your pockets, take off your sunglasses and deposit everything (including your phone) in a very sophisticated locker system which is controlled by your magic band. It worked perfectly.
As you approach the ride, you can't help but feel a sense of anticipation building inside of you. The towering structure looms in front of you, and you can catch glimpses of the high-speed track (and guests riding ahead of you) winding its way around the perimeter. The sound of electronic music and the flash of neon lights give you all the motivation you need to step forward and climb aboard. Our virtual queue was super fast (maybe 10 minutes) so definitely check out how to get on this system.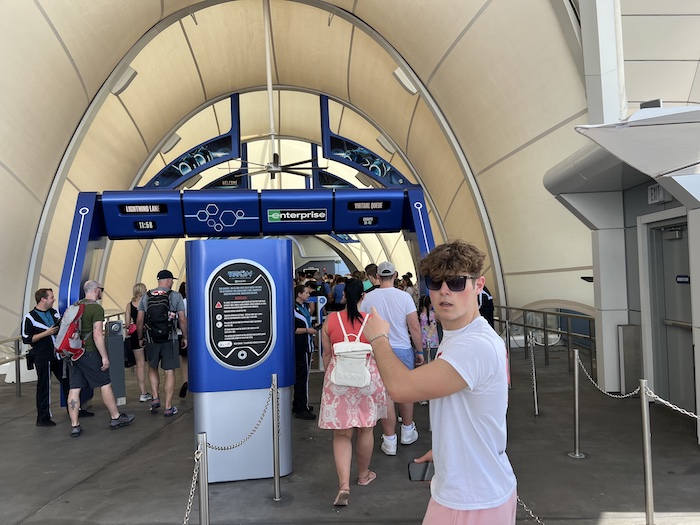 The ride vehicle itself is inspired by the iconic Tron light cycle, and you take your place on one of the sleek, futuristic vehicles. This is a roller coaster ride but the riding position is on the Tron bike itself, so you feel like you're on a motorcycle. As you pull the handlebars back (under the guidance of the Tron staff as this is a saftey thing) your legs become secured in a reassuring locking system whilst there's a back support which locks in place comfortable behind you. You're ready to go!!
You'll feel the hum of the engines and the heat of the neon lights above you. As the ride takes off, you are immediately transported to the world of Tron. You speed through glowing corridors and intense twists and turns, feeling the rush of air around you as you soar through the neon-lit environment. It's very exhilarating and the wind rushes through your hair and with the speed and height, you feel like a rock star.
The ride's soundtrack pulses through the speakers, adding to the adrenaline-charged experience. One of the standout moments of the ride comes when you encounter the Gridbugs, creatures that infest the Grid and will stop at nothing to bring you down. Using your light cycle's powers, you'll have to navigate and dodge your way past them, all while feeling the heat of their attacks trying to catch you. Another memorable moment comes when you gain incredible speed and soar through the neon city skyline, dodging obstacles and weaving in and out of traffic as you race towards the finish line.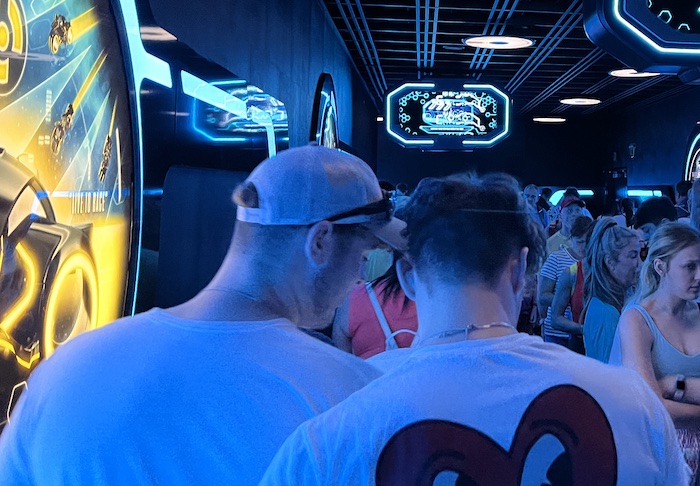 As the ride comes to an end, you can't help but feel a sense of exhilaration and excitement coursing through your veins. The Tron ride at Disney World Florida will leave you feeling like you have been transported to a world beyond your wildest imagination, and you will be eager to go back for more.
In conclusion, if you're looking for a thrilling ride with an immersive storyline and stunning visuals, the new Tron ride at Magic Kingdom is definitely worth a visit. We absolutely loved it but one of us did have a bit of a sore back and sore legs at the end, which was a slight negative (Tip. Don't pull back the handlebars too aggressively when you are onboarding otherwise it will tighten the grip on your legs – do check with the staff you are safe though of course). You'll experience a pulse-pounding adventure that will stay with you long after the ride comes to an end. Get ready to step into the world of Tron, and let the ride take you on an unforgettable journey like ours.
Author by James Potts, Exclusive Private Villas. All rights reserved.