When it comes to having spooky fun, then theme parks do know how to put on a party. All of the major Orlando resorts up their game for Halloween and run themed events. These can start as early as August and run through right up until November. So even if you aren't in the park for the day itself you can still be sure to enjoy all the scary fun. We take a look at the events that you are not going to want to miss this Halloween with our Orlando Halloween Parties Guide.
Mickey's Not-So-Scary Halloween Party, Disney World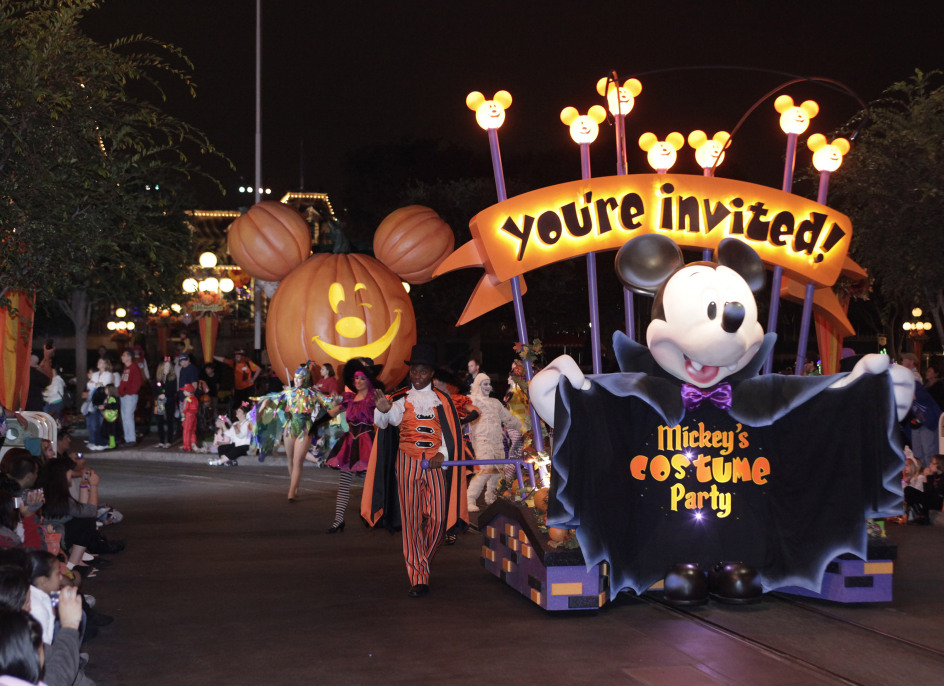 This is one of the best family Halloween parties in Orlando. The event starts from Mid-August and runs through until November 1st. There are many different sights to see and rides changed to be themed around Halloween. Kids are encouraged to visit the park in costume! They can go trick-or-treating around the park as well and pick up some great sweet treats.
Check out the 'Boo-to-You' Halloween parade
The 'Boo-to-You' Halloween parade will see Mickey and Minnie donning their Halloween costumes as they engage in the spooky fun. Many of the rides are given a spooky twist! This includes classics like Pirates of the Caribbean, Space Mountain, and the new Monsters Inc Laugh Floor. In the evening there is the 'Hocus Pocus Villains Spelltactular' on the castle stage! In addition, there's also a themed firework show. Watch Mickey and the gang travelling through a haunted house in the 'Not-so-spooky' fireworks spectacular.
Or why not get your groove on in the Disco Junior Jam
The young ones can get their groove on in the Disco Junior Jam in FantasyLand. If you fancy some Halloween inspired foodstuffs, then there is the Not-so-spooky dessert party or Cruella's Halloween hide-a-way. This is a great family-friendly event which runs after hours in the park and requires a separate ticket.
Halloween Horror Nights, Universal Studios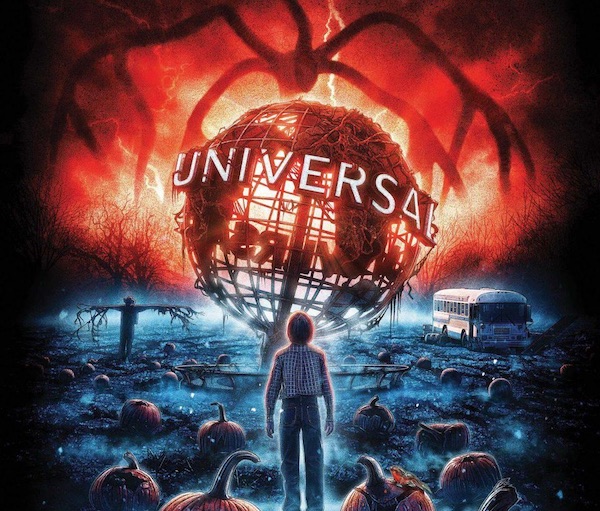 This is one of Orlando's most popular Halloween party events. It is a delight for any serious horror fans as the intensity is ramped right up. For this reason, it is unlikely suitable for children under the age of 13. The event runs from Early September through to Early November. The park is transformed into freaky scare zones, nightmarish haunted houses and terrifying street experiences.
Returning this year is the ever-popular Stranger Things experience! Take a trip through the scariest parts of Stranger Things 2 and 3. It features snarling demodogs and recreations of some of the famous places from the show.
There are also plenty of other themed haunted house locations! You'll find films like Ghostbusters, Us, House of a 1000 corpses and Killer Klowns from Outer Space. As this is Universal then all of their classic horror characters make an appearance as well! Look out for Wolfman, the Mummy or Frankenstein.
There are plenty of high intensity scare zones, where you will come face to face with some larger animatronics or even a chainsaw welding maniac or two. Even the normal rides feature some scary theming and you may find yourself riding the Transformers ride in the company of a zombie. But don't worry they are unlikely to bite, though depends on how much the actors are paid!
If you fancy eating with a scary theme, then you are also well catered for with there being a themed buffet and many photo-opportunities at the Classic Monsters Cafe. This event runs from 6:30 pm through to 2 am so you can make a night of it. No costumes or masks are allowed at this event, though a change of underwear might be needed.
Halloween Spooktacular, SeaWorld
This Halloween event runs from 21stSeptember through to 27thOctober, so just misses the big day itself. The park features several specially themed attractions and shows just for Halloween and so is well worth checking out. This is a family-friendly Halloween party and children are encouraged to dress up and can trick or treat throughout the entire park with many different trick-or-treat stations that offer a selection of sweets for the children to choose from.
When it comes to events there is the all-new Sesame's Street Parade along with Clyde and Seamore's Big Halloween Bash. The Pet's Ahoy show is changed to be Halloween themed and features dogs, cats, pot-bellied pigs and a few surprise animals as well. There is also a Halloween dance party for you to get involved in and groove on down.
Adults are well catered for as well during the Halloween event as it coincides with the SeaWorld Craft Beer Festival which offers up over 100 different craft beers for you to sample. Alongside the beer are some 20 specially prepared food dishes to pair perfectly with your preferred tipple. Alongside this is plenty of festive entertainment which is enough to keep the party going all day long.
Don't forget to check out the Mermaid Grotto which sets bubbles floating over the park every weekend and allows you to meet a real-life mermaid. Entry to the event is included in the standard ticket price.
Other Events
There are also several other great Halloween themed events taking place all around the Orlando theme park area. The Legoland park has a 'Brick-or-Treat' themed event which is perfect for the little ones and features several stalls selling pumpkin-spice apple fries amongst other delicious treats. Old Town features a massive Halloween party on Halloween itself with many stalls and stations set up for trick-or-treating kids. If you are indulging your retails needs then the Florida Mall has a Crayola Experience Halloween event with face-painting, scavenger hunts and plenty of crafts to indulge in. If if you are looking for something very scary how about heading to the Altamore Springs for a Halloween experience in a real petrified forest.
No matter which Halloween themed event you head to, you are bound to have a 'terror'ific time, with plenty of themed activities for both the little ones as well as the more senior members of your group.
Check out one of our fantastic villas for the best place to stay.