Villas to rent in Kefalonia
 When it comes to the Greek islands there truly are hundreds of great little places. However, Kefalonia has always stood out as a particularly pleasant place to go. With its exotic beaches and picturesque villages, it evokes a laid back and relaxed atmosphere of a sunshine paradise. This is even true in peak tourist season as the island is large enough that you will still be able to find the peace that you are searching for. Waking up inone of our Villas to Rent in Kefalonia is truly a magical experience.
The island is well suited for both couples and families. With plenty of things to see and do for everyone. We will take you through some of the highlights that you can expect when you take a trip to this amazing Greek Island.
Things to do in Kefalonia
1) A day trip to Mytos Beach, Assos and Fiskardo
One of the many reasons that travellers visit Kefalonia is the famous Mytos beach. This beach has been featured in many travel guides and magazines as one of the most beautiful beaches in the world. It is no wonder then that it is known as one of the most widely photographed beaches in Greece. When driving to the beach you should ensure that you pull over at one of the many stopping and viewing points to take photos of the beach from above. The spectacular white cliff makes this an amazing sight.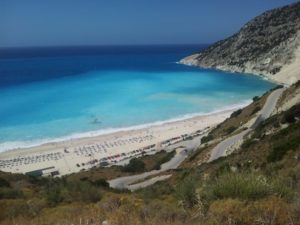 At just under an hour drive from Mytos Beach sits the tiny town of Assos. This town may only have 100 residents, but it has a heart that is large enough for everyone. The colourful houses cling close to the waterfront as the sleepy fishing town gives you the perfect peaceful atmosphere.
Fiscardo is just a further 30 minutes on from Assos and is situated right at the northern tip of Kefalonia. It has a beautiful harbour that attracts a mix of local fishing boats and luxury yachts, particularly during the summer months. This town also boasts some great places to stop for lunch as there are many great cafes and restaurants. After lunch, you should take a stroll around the harbour and enjoy the tranquillity. Many of our Villas to rent in Kefalonia are located in these beautiful parts of the island.
2) Renting a boat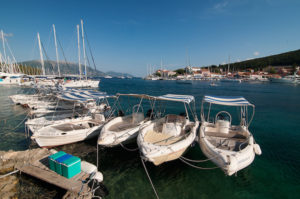 Hiring a boat whilst you are in Kefalonia is a great idea as you can see some amazing little beaches and coves that are only accessible by boat. You can travel the tranquil blue waters of the sea and maybe spot a dolphin or two as you cruise around.
In particular, in northern Kefalonia between Fiskardo and Aghia Efimia, there are many secluded pebble beaches that you can only get to by boat. Most you will have to yourself as you sunbathe, swim or snorkel.
You might even spot a rare monk seal in the northern seas, but if you do watch them from a distance and don't follow them. For Sandy beaches, you need to head towards the southern coast. On many beaches, you can rent a sun-lounger or try out some water-sports. However, if you want a secluded spot you can still find it.
You can rent a motorboat with up to a 30hp engine without a boat licence. If you want something with over 40hp then you need a speedboat licence. You also need to be over 18 or 21 depending on the boat and have an id card or passport. You should also make sure you have a mobile phone on you in case you run into difficulties whilst out and about in your boat.
If you don't feel comfortable driving yourself around you can hire a skipper for the day. Most boats will take 2 or 3 people. You should also watch out for signs that say 'no mooring' which means that you will need to drop anchor well out into the bay.
3) Messelini Cave boat tour.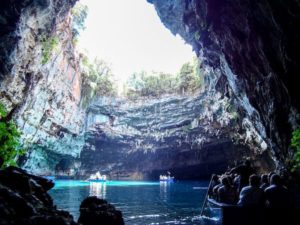 The Messelini Cave is one of the UNESCO sites of outstanding natural beauty. The waters of the lake are an amazingly tranquil colour. One of the best ways to truly enjoy the caves is by taking a boat tour. There are several tours available and thankfully this means that you won't have to wait too long to get one of the best ways to see these caves.
The water is unbelievably blue and stunningly clear and something that you won't see every day. The boat tours are generally accompanied by a guide. The guide will be a local with extensive knowledge of the caves and local area. They will provide you with history and facts as you tour around and answer any questions you might have.
The guides are also really helpful when it comes to taking photos as you are going to want to take a lot of this beautiful place. Some of the guides will even sing-song and generally, keep you entertained and happy as you travel around. A perfect Greek host that will make you laugh and smile. It should be noted that you are not allowed to swim in the waters though so make sure you don't plan for a dip. There is also a small cafe and shop nearby for souvenirs if you want them.
4) Restaurants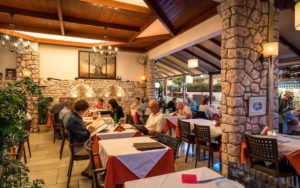 Greek cuisine is one of the best in the world and there are many great places to eat and drink all over Kefalonia Island. It goes without saying that seafood is going to be high on the agenda in most places, with the freshest of fish available. We will give a small sample of some of the highlights.
When you are in Fiskardo you should check out the Tassia restaurant. This is a family-run establishment that uses some of the finest local ingredients to create some amazing Greek cuisine. The owner and chef Tassia Dendrinou is nationally and internationally known and has a couple of recipe books out as well.
Off the beaten track, The Captain Nikolas restaurant has a huge range of dishes that are all made by hand and produced from the farm outside the back of the restaurant. Guests can visit the farm and try out some samples of the locally produced Jam. In the restaurant, there is a daily special that brings the best of Kefalonia to you. Enjoy a glass of the house wine whilst relaxing amongst the flowers out back.
If you are looking for dinner with a view, then try the Il Borgo. You can enjoy the sunset over the Castle of St. George as you enjoy traditional Greek food with a twist. You can sit and savour the flavours of oven-roasted lamb as you sample a glass of house wine whilst looking out across the amazing views of the island as you lose yourself to the sensations.
5) How to get around
When it comes to getting around Kefalonia island, whilst there is a public transport system. This is of typical Greek affair, which makes it not the most reliable of concepts. Therefore, the best way to get around is definitely by car. There are many places that you will only be able to see and do by car, and in fact, some of the best ways to enjoy the island are just by driving around. We can recommend that you hire a car in advance of your trip as this will save you a lot of time and trouble once you are there. Even driving around your whole trip you are unlikely to use a lot of petrol. So, you really can't beat the flexibility of having a vehicle.
Driving around you are going to see some truly amazing coastlines and beaches and being able to stop or take off in whatever direction you please is going to make the holiday one to remember. As long as you have a driving licence from your home country then there should be no problems in renting a car while you are here.
6) A trip to Zakynthos
If you want to take a day trip across to popular hot spot Zakynthos, then this is completely possible from your base in Kefalonia. You will need to head down to Pessada on the south coast across to Ag. Nikolaos in Zante, Zakynthos. The ferry runs twice a day so you will need to make sure that you get up early. If you are driving down to take the ferry across you will also want to check with your hire company that they are happy for you to do this, though it has become so popular most will allow it.
So, you are in Zakynthos for the day what should you see and do? Well, one of the most popular spots is the famous Navagio beach or Shipwreck beach as it is more commonly known. This is only accessible by boat, but you can get a boat directly at Ag. Nikolaos. One the way you will stop at the famous Blue Caves where the water shines an iridescent blue colour. You can snap a few pictures, take a swim and enjoy the beach with ease.
Fancy seeing some authentic Greek life then take a trip to the village of Volimes. This is full of tiny twisty streets and it is worth tasting the locally produced cheese. The area is also home to many different honey producers, and you will no doubt notice people selling this sweet product all over the place.
If you fancy something a little more adventurous, they why not try taking a sea kayak to explore the Keri Caves in the south-western area of the island. These caves are only accessible by boat and are a truly amazing sight. Combine this with a little snorkelling around Keri Lake for a wet and wild physical adventure.
7) Wine tours
When it comes to taking a breather to get something to drink then you know that there are going to be some good wines available on Kefalonia. So why not do something different and take a trip around a winery or different vineyards and sample the locally produced wines. These are some of the best in Europe and so it is great to see from the source.
There are many different vineyards around that will be happy to give you a tour and not all of them are marked on the map or the internet, so it pays to ask around about local recommendations. One way to do this may be to ask at the local restaurant which vineyard they sourced their wines from and go and check it out.
The vineyards tend to practice an authentic biodynamic practice whereby they use the natural flora and fauna to tend to the vines. So, if your host stops the tour to wash off a nearby worm and place it lovingly onto a vine, then you know why they are doing it. The worms help to naturally aerate the soil and give the wines their great flavour.
8) Mountain Biking
 Mountain Biking is also another great way to see the island. The natural beauty of the place can be seen from the back of the bike easily. The highest mountain peak in Kefalonia is some 1628 meters up. This is higher than Ben Nevis by about 250 meters. However, what makes Kefalonia unique is that you can bike all the way from sea level at Scala to the top of that peak entirely off-road without having to stop once.
You will need to watch out for the heat though and make sure that you take plenty of fluids. A dedicated biker could make that trip in about 3.5 hours, but if you do it during the hottest part of the day then you are going to melt.
9) Stay in a luxury villa
A stay in one of our Luxury Villas in Kefalonia is one of the most magical experiences. Equipped with everything you need, including an inviting pool and wonderful sea view, there's nothing you will yearn for.
Final Thoughts
 Kefalonia is a stunningly beautiful island that has always been a popular spot with tourists but has calmed down a little following the Captain Corelli effect after the release of that film. There are many different things to see and do, but ultimately it will give you a relaxing and peaceful holiday surrounded by great views, stunning food and amazing wine that will sell to you the relaxed. Stay in one of our Villas to Rent in Kefalonia and it's going to be a decision you won't regret.