Solterra Resort Orlando is a highly desirable collection of villas and townhouses, each set into a stunning tropical landscape of palms and exquisitely manicured gardens awaits at the tranquil Solterra Resort.
 This luxury Orlando resort is just a short drive to Disney parks like The Magic Kingdom, Epcot, Disney's Animal Kingdom, Disney's Blizzard Beach and Disney's Hollywood Studios. Within the resort you'll have exclusive access to tennis courts, fitness facilities, volleyball and basketball courts, a children's play area, a clubhouse with a lounge that can be hired for private events and a heated zero-entry swimming pool with a large slide, a lazy river ride, a restaurant and poolside cabanas.
 As Solterra Resort has been built with both privacy and tranquility in mind, you won't find a large amount of restaurants or bars within the resort, aside from the excellent poolside Cafe Sol Bar and Grill. However, Solterra is just a moment from Interstate 4, putting you a short drive away from the huge ChampionsGate Resort and its huge shopping centre, filled with restaurants, shops and cafes, as well as a world-class collection of golf courses (10 within a 3 mile radius of Solterra Resort), lively cities like Kissimmee and Orlando, and of course the all important theme parks that are all just a short drive away – from Walt Disney World and SeaWorld Orlando to Gatorland and Discovery Cove.
Staying on resort is an excellent idea when it comes to choosing your accommodation for your Orlando holiday. Private Villa rentals give you the freedom to have a home from home experience, and yet at the same time are absolutely luxurious and offer you many things you do not get at in most houses. You also have all the benefits of being on a resort, with plenty of entertainment facilities built in and available to use for holiday residents.
Solterra Resort
For those who do not know, a resort is a little bit like a miniature town. There are many different homes set in normal street type arrangements, and Solterra Resort is just a short drive away from the Disney world resort and offers easy access to many of the Orlando attractions. It is generously spaced with oversized plots and plenty of green and luscious plant life to help create privacy. The overall feeling is relaxed and laidback, and something of an escape from the hustle and bustle you will experience at some of Orlando's biggest theme parks. They have created a real 'at one with nature' feeling, within the resort there is plenty of water conservation, and tropical greenery. There is certainly plenty to do onsite including their new lazy river pool and large clubhouse. It takes you just 20 minutes to drive to the main gate of Disney World, about the same again to hit SeaWorld and Aquatica, Universal is 25 minutes away, and International Drive it will take you about 25 minutes to reach. It is very near to the popular Champions Gate locale, which has many shops, restaurants, hotels, and golf courses. You can also get in some shopping at the outlet stores, so you really do have everything you need within a very short distance.
Solterra Rental Villas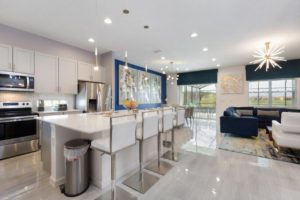 One thing we love about this community resort is that there is a generous selection of private rental villas for you to choose from. They feature all sorts of bedroom sizes from just 4 bedrooms right up to 10 bedrooms which sleeps up to 20 two people. Which is ideal for large groups, whether you are family or friends sharing the cost and experience of a wonderful holiday to Disney. Even the smaller four-bedroom homes sleep up to 10 people, so you can take the grandparents on holiday or go with a family friend.  All of the villas are geared up towards children staying there and, in some cases, there are themed rooms designed to make the children immediately feel at home. There is a real family feeling within the resort, and usually you will find a private swimming pool, which can be heated for extra costs although the weather dictates you probably won't need it. Most of the villas will have covered areas in the backyard so you can escape the scorching Florida sun and they are, of course, perfectly set for outdoor living so you can cook and eat in the evenings by your pool.
If you want to escape the sun and have a lazy day in the house, you will also find some of the bigger bedroom homes offering Home Theatre rooms and big screen televisions. These tend to come with a stack of videos, and you can also pick up different channels on the television. Many have cinema style seating and you can easily source some snacks and drinks and settle yourself in for a good night of television. Many of the luxury Villa rentals have games rooms in the garage and some have spa's forming part of the swimming pool for your total relaxation and luxury. The homes generally have ensuite facilities for each room, potentially with a shared bathroom for the children's rooms. They may have baths or showers, but you can almost certainly guarantee that both are available somewhere within the home.
At the front of the villas you will find plenty of space for parking if you have hired a rental car for the duration of your stay.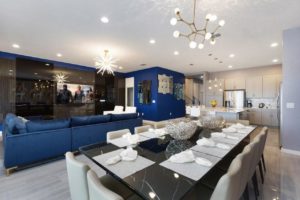 The Facilities
So, we completely understand if you want to squirrel yourself away into your Villa and never be seen again except when you go to the theme parks. But there are also a great range of facilities available on site, many of which you will certainly find useful. Overall the site stretches out over 6700 square foot and there is certainly plenty packed in. All of the clubhouse and leisure amenities are available for any rental property guest to use free of charge during their stay. The community itself is secure and gated so you can be confident of your safety. There is a large heated communal swimming pool, a jacuzzi, water slide and more. So, if you want to take the kids out to run off a bit of steam, in more space than you have around your own pool, this is the perfect setting to do so. There is also an expansive children's play area for the younger children. Here's a useful Solterra Resort Map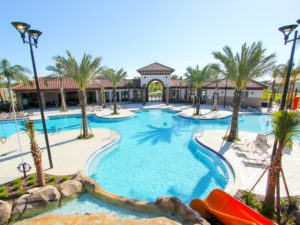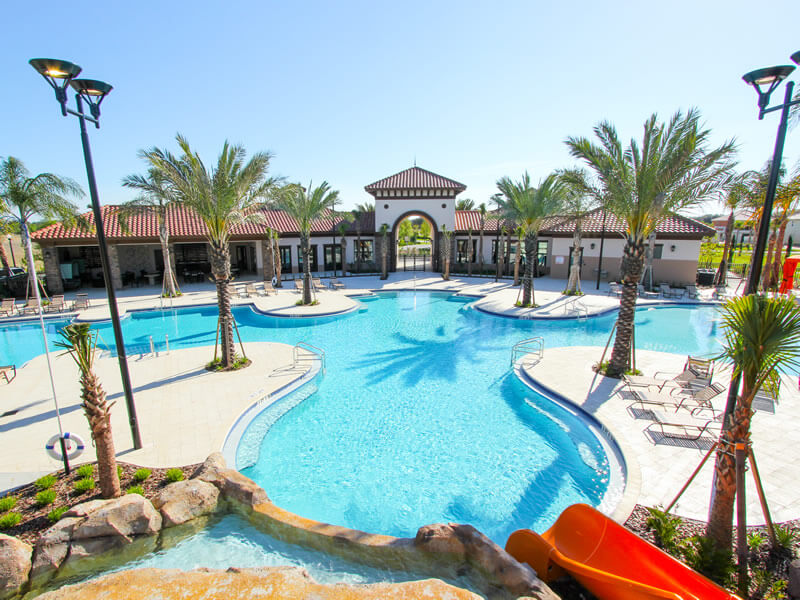 If you fancy getting in some sports there are volleyball courts, basketball courts and tennis courts all available for you to book and hire. There is also no need to disrupt your fitness programme should you wish to continue, there is a great fully stocked gymnasium facility available with all of the usual pieces of equipment you would find at home so you can escape and get a workout.
In the clubhouse you will find cabana's and a cyber cafe as well as a large meeting room. There is also a computer room so plenty of things to keep the teenage generation entertained. Of course, you can also buy drinks and snacks at the clubhouse, if you want to take a break from the Villa for any reason. It is a light, modern space and there is plenty of seating food a League or relaxing whatever you want to do. There is plenty of greenery should you wish to go for a walk you can do so and explore the resort on foot