Reunion Golf at Reunion Resort is the stuff of legends. Three courses woven into 2,300 stunning acres that are each adorned with leaning palms and idyllic lakes. All reflect the surrounding topography, and all painstakingly designed by 3 of golf's biggest names. Jack Nicklaus, Tom Watson and Arnold Palmer. A team of professionals are always on hand to offer a bespoke teaching program. Additionally, this can also be fine tuned to your needs. Large groups, charity tournaments and golf schools can all be easily arranged.
The golf carts come equipped with a "press for service" button so one can easily indulge in a round or two of drinks mid-round. The best time to enjoy it all is between January and May. This is when Florida is a littler emptier and when the weather is nearly always nothing short of perfect.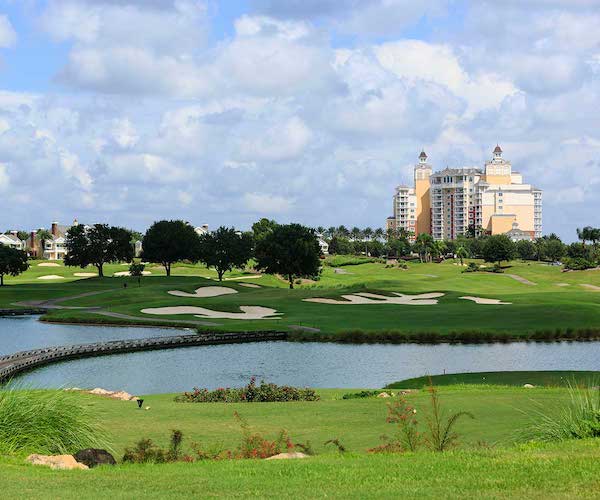 The Jack Niklaus Course
With its Parkland-style layout, the Jack Niklaus designed course is beautiful. You'll discover long horizon lines and lengthy tee shots. Imagine looking down fairways bookended by large bunkers and elevated tee boxes and greens.
The Arnold Palmer Course
The Arnold Palmer course takes advantage of its stunning undulating terrain. The result is an innovative route that makes quick elevation changes. Generous fairways allow for adventurous tee shots, some of which pass over pretty water-droplet lakes.
The Tom Watson Course
The Watson course was the first in Florida to be designed by Tom Watson. Here you'll discover green side bunkers, rolling fairways and significant landscaping. Not to mention some deceptively tricky greens! Consequently, the course is as beautiful to look at as it is challenging to play.
Find your perfect place to stay at Reunion Resort here.