This premium resort is built within 2000 acres of beautiful gardens and parkland. Disneyworld is only 6 miles away and Seaworld another 4 miles away. In Reunion Resort Orlando, expect large custom built homes such as the 10, 11 or even 12 bedroom villas. Other sizes of Private Reunion Resort Villas are available too. The resort has 11 public pools with wonderful pool decks to enjoy a hot afternoon. Reunion also has a 5 acre waterpark with a lazy river and water slide for the kids.
Orlando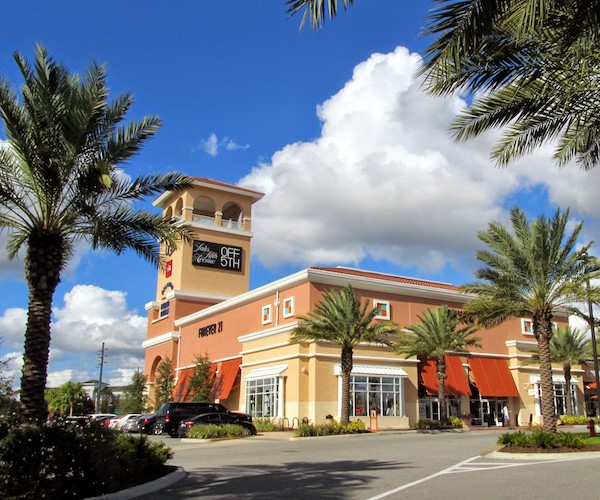 Downtown Orlando is literally only a short trip down the I4 from Reunion Resort and is a great place to visit. One of the most famous roads to visit is International Drive, famous for its attractions and food outlets. Orlando of course is famous for its waterparks such as Volcano Bay. There are some great shopping experiences in Orlando such as the massive Mall at Millenia or the Premium Outlets.
Golf at Reunion Resort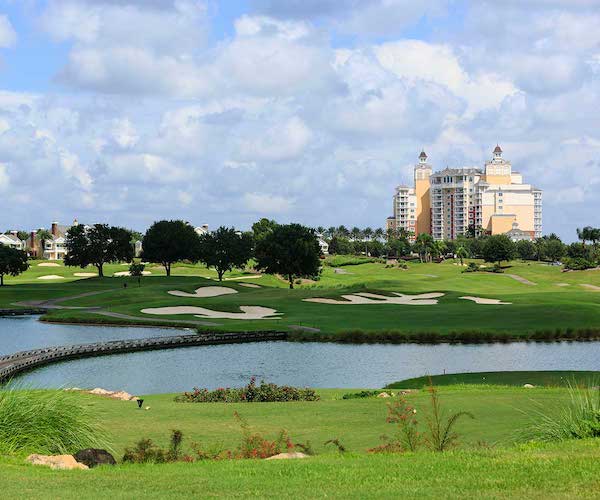 For the keen golfers, guests at Reunion Resort are spoiled for choice with the option of three signature golf courses. The courses were built by the legendary Tom Watson, Jack Nicklaus and Arnold Palmer. Before the game, golfers can enjoy an early morning breakfast at the clubhouse and then a practice at the driving range.
Resort Pools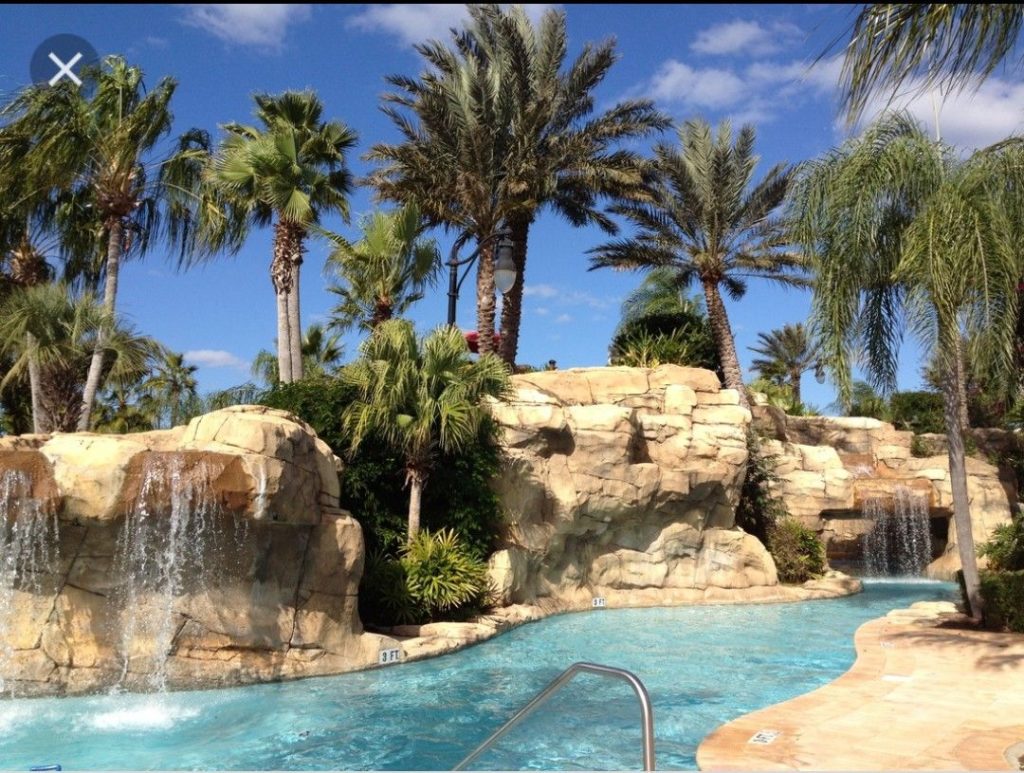 There are so many public pools dotted around the resort such as the giant Seven Eagles. The pools are spread out so there will probably be one close to your villa. Of course, each villa has its own private pool but sometimes its nice to mingle with other guests.
Disney Buses
One easy way to travel to Disneyworld is to catch one of the shuttle buses which go regularly throughout the day. The buses are free and it saves having to pay the car park fees when arriving at the parks. If you have a park hopper pass, you can easily travel between each parks when you arrive so this makes it easy.
Fitness Centre at Reunion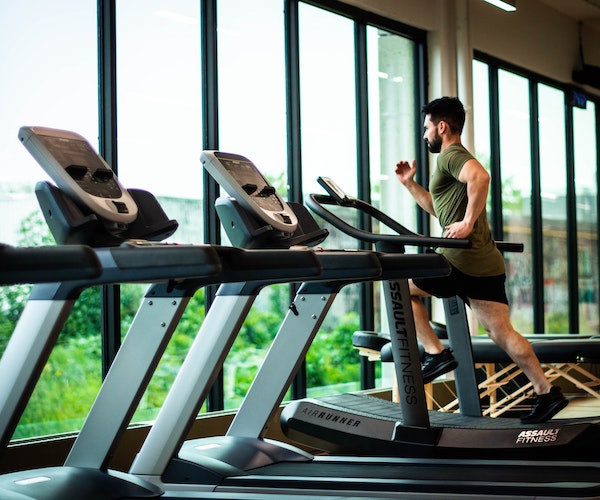 Reunion Resort has a very well equipped fitness centre which is located at the Seven Eagles pool area. There are lots of cardio machines to choose from and weight lifting equipment. Guests can book fitness classes from one of the on-site fitness trainers and benefit from expert advice.
Other Inclusions
Reunion Resort has a spa which can be paid for separately so if you are hoping for a relaxing facial or a massage, these are all right here in the resort.
Reunion Resort Villas
The villas at Reunion Resort are probably the best in the world for a gated community. They tend to be custom built rather than the cookie cutter style rentals you see in other resorts. The villas are often themed for that added extra fun and often have games rooms. If movies are your thing, maybe choose one of the rentals with a home theatre and enjoy an epic movie night during your stay.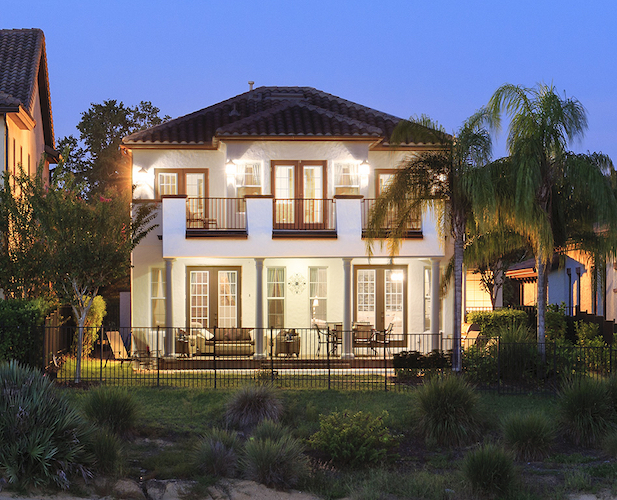 Reunion Restaurants
This resort has some wonderful places to eat, both in the day and fine dining at night. The golf club is a great place to eat breakfast and a huge buffet is on offer every day.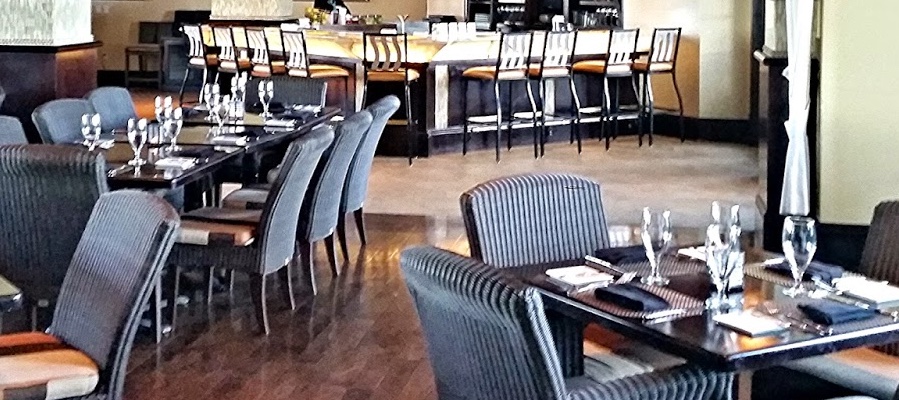 On the ground floor of the Reunion Grande, people gather around 6pm to enjoy Sushi at the bar. Forte, also on the ground floor has a delicious range of Italian foods on offer and is one of the main fine dining restaurants on offer.
The top restaurant is literally at the top of Reunion being on the 11th floor of the Reunion Grande. "Eleven" is fine dining at it's best and is set overlooking the top floor pool deck area. Guests can arrive for Aperitifs on the balcony watching the Disney fireworks in the distance. "Eleven" is famous for its steak and there are many to choose from.