The Encore Resort Waterpark provides a perfect summer sanctuary for all the family! There are a fantastic collection of slides, a pool for the smaller kids, a restaurant and private cabanas. You'll also find an arcade with Dance Dance Revolution, pinball and hockey. In addition, there's shop, filled with sun cream, towels, toys and anything else you might need for a hassle-free day at the pool. Many of our Encore Resort vacation villas come with their own private swimming pools, for an experience that is little more private and personal.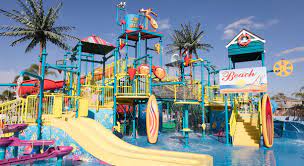 Adults can enjoy a poolside cocktail or a spa treatment in a cabana. The kids can experience the theme-park like collection of slides on offer at the Aqua Park at the same time! The Stormchaser sends riders hurtling at high speed down a vertical chute! Race your friends at high speed over a rolling slide on the Wave Racer! The Tsunami a little bit different; a twisting tube where kids can either ride alone or on a raft for two. Smaller children can traverse the Safari Splash Area. Here they'll find their own collection of water slides, bridges, water cannons and water fountains to enjoy. These are all specially designed to ensure that your little ones, who might not be able to ride the larger slides, don't feel left out.
An especially popular feature of the Encore waterpark is the mermaid and shark swimming classes! Designed to put a novel twist on traditional swimming lessons. They are aimed specifically at younger children to make learning to swim a bit more fun and educational. Children can attach a mermaid tail or a shark fin and learn to swim like their favourite sea animals. Traditional lessons, both as one-to one or as a group are available too.