Encore Resort Florida is just a short ten minute drive to Walt Disney World. Unlike traditional villa rentals, Encore makes a full roster of world-class hotel-like services and amenities available to every guest. These provide the ultimate in luxury villa vacation experiences and add to the enjoyment of the trip. At the hub is the Encore Resort Clubhouse.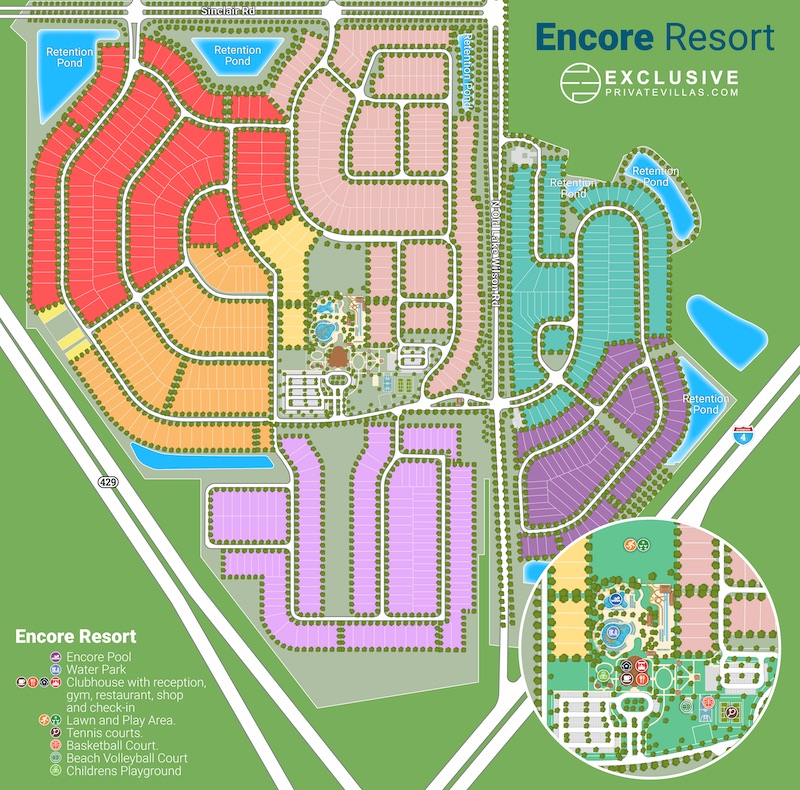 The Clubhouse
You'll recognise the Clubhouse as the centrepiece of the Encore resort. It's a large Disney-like building with a clocktower at its peak. Think of the Clubhouse as the hotel reception. It's a meeting space for all of Encore's amenities and home to the concierge services. You'll also find the Finns Restaurant, bar, gym, and a whole host of other services here.
The Hideaway Hang Ten space at the Clubhouse has been designed with younger guests in mind and provides gaming consoles, large screen TVs, crafts and board games. Children between the age of five and thirteen can be left in secure and friendly hands while parents take care of admin, visit the gym or catch up on the news over a drink in the Shark Lounge on the ground floor of the Clubhouse.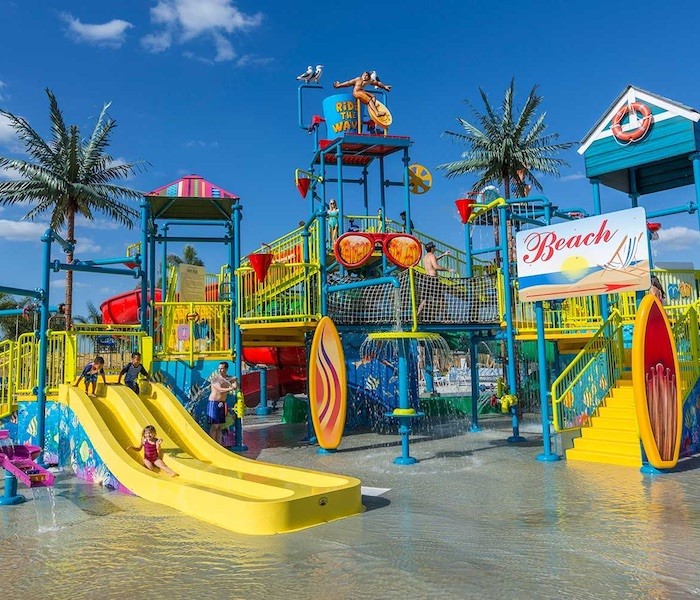 Amenities at Encore Resort Florida
Everything one could possibly need is close to hand at Encore. With all the main parks just minutes away and a collection of on site restaurants. The resort all benefits from a waterpark, swimming pools, a fitness centre, and access to Reunion Resort's impressive collection of amenities. Amenities include its star-golfer designed golf courses and the world-class cuisine at Eleven Restaurant. There is a free shuttle service for the parks, so even if you don't want to or can't drive, you can easily access Disney World and Univseral.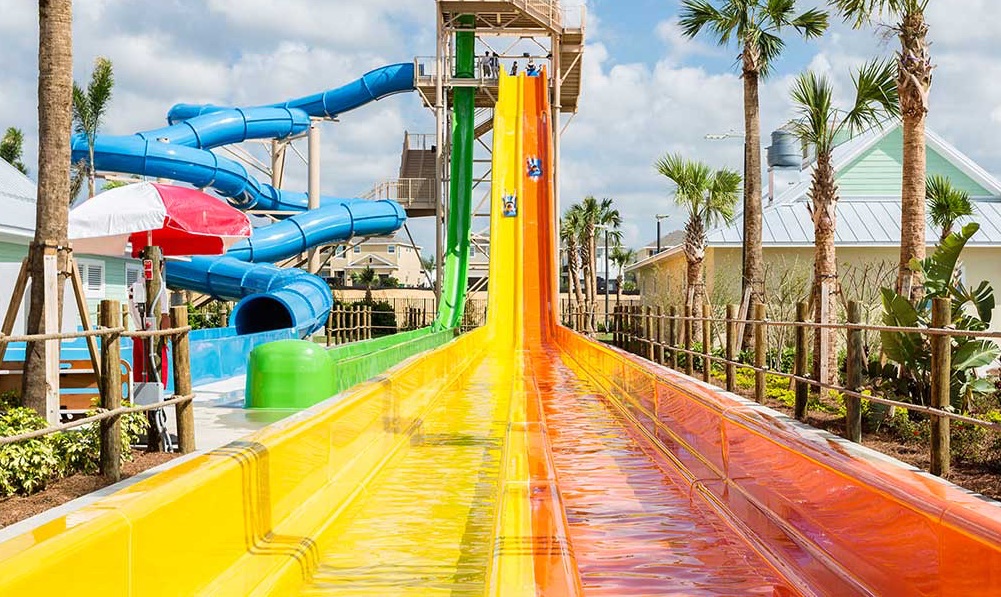 Restaurants
Restaurants at Encore Resort Florida are a little more laidback than their neighbours in Reunion Resort. They offer a fabulously eclectic selection of dining options, with all-American cuisine straight from the grill at Bis Grill, international dishes at Finns, and cocktails, beers and drinking food at the Shark Lounge. If you would prefer to eat at home and don't want to do the cooking then that can be catered for too. You can either order a home delivery, or have Encore bring you food. The Encore Resort Chef & Bartender Experience brings the restaurant directly to your villa for an indulgent and highly personal dining experience unlike anything else. For those looking for a touch more variety then they need to look no further. Reunion's collection of restaurants cover everything from fine Italian cuisine through to Regional American cuisine, all just a few minutes away.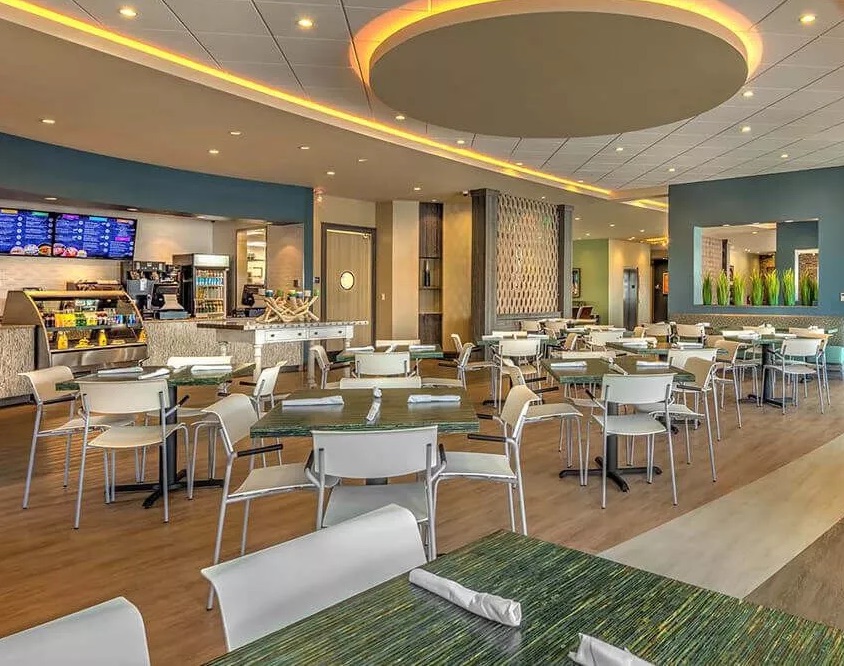 Amenities at Encore Reunion Resort are numerous, with a luxurious spa service with Swedish massages and Japanese Zen facials. The resort also has bike rentals, a ten acre Aqua Park with race slides and private poolside cabanas. For the more sporting, there are mermaid swimming classes and tennis courts to keep you fit. A 24-hour service line and complimentary concierge service are available and as a result, make your holiday stress free.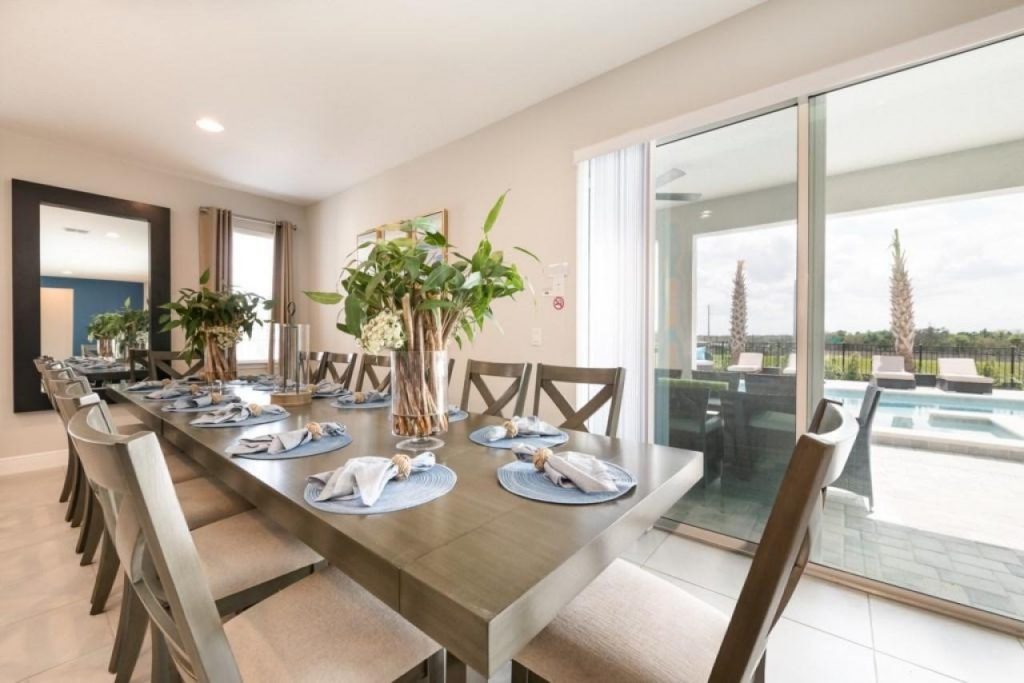 More About Orlando
Orlando is the home of Disney World Florida which is one of the worlds top family attractions. Disneyworld consists of four theme parks, Disney Springs shopping/dining and two water parks and the fantastic Golf opportunities available at Disney.