About Orlando Resorts
Orlando is one of the most popular destinations in the world. That's no surprise as it is home to Disneyworld Florida. Since Disney arrived, other parks have sprung up including Universal Studios and Seaworld. In terms of places to stay, there are no shortage of Orlando Resorts. The top resorts include Solara, Solterra, Encore and the magnificent Reunion Resort Florida. Many of the the Orlando Resorts have golf facilities.
Visiting Orlando Resorts has become a group activity though and the modern traveller often has several families and friends in tow which has given rise to a huge demand for Orlando Villa Holidays. Staying together in a group is now possible with the emergence of the big 7, 8 and 9 bedroom vacation rental homes and builders are now designing up to 13 bedroom giant mansions designed for the Disney travellers in mind. The best thing about our Orlando Florida Resorts are the amazing water parks they have.
A question we are often asked is "Where to stay in Orlando" and the answer is rather difficult to reply to as there is literally so much choice.
Luxury Orlando Villa Rentals
We have hand-picked over 600 villas to choose from We choose villas for the type of community it is in and facilities on offer. Every where you look in Orlando there are new communities popping up. There is a constant flow of new villas coming onto the market providing more and more choice for consumers.
The security at the resorts are second to none and Reunion Resort Orlando is the best. Reunion Resort Orlando Villas are spacious and luxurious. With these new estates arriving online, it has never been a better time to book an Orlando trip. Villas in Orlando Florida is one of our main specialities. Our Mansion Rentals Orlando (The huge houses) are a popular choice with families and friends groups.
Orlando Resorts
Reunion Resort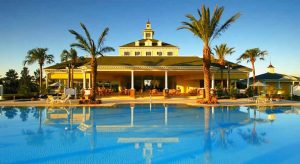 Reunion Resort is at the upper end of the market and therefore attracts celebrities. It has over 1000 top end properties to suit every choice and budget. At the centre of this magnificent estate is the giant Reunion Grande. This is an eleven storey hotel (well condos to be precise) and is at the centre. The Grande has everything you'd want from a top hotel. The Grande stands as the centrepiece for three signature golf courses and designed by legends Palmer, Nicklaus and Watson. There are lots of amenities at Reunion so booking is very easy.
Most of the houses come with pools and unusually for Florida, the larger houses are free from ugly netting, giving a real classy look and feel to the more expensive parts of the resort.
On site at Reunion you will find a beautiful multi acre water park. The waterpark has some great features so it's a great place to chill out.
Encore Resort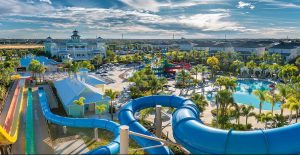 Encore Resort is one of the most modern communities for Orlando. It is not on the same level as Reunion Resort (with much more cookie cutter homes), Encore does indeed offer a wide selection of vacation rentals. The number of bedrooms and the themed rooms being the main feature at Encore. The value for money (by catering for large groups) at Encore is great as many of the properties are 8, 9 or 10 bedrooms. We recommend bringing as many people as possible so this will keep the cost down. Encore Resort is brand new so is quite a popular community.
Whilst there are no fine dining options at Encore, the resort itself has a superb waterpark facility. Holiday makers can use some of the facilities at nearby Reunion Resort as the resort is a "Sister" resort.
Champions Gate
Champions Gate Vacation Rentals community is a great option and is located in the i4 so it's convenient for getting to and from the theme parks. The Omni Hotel forms the centre and has a beautiful waterpark. There are some good fine dining options at the Omni including a steak restaurant (Davids) and a chinese restaurant. Champions Gate villas are cheaper so they are ideal for those on a budget. Check out the very cool Champions Gate Map here.
What to expect in our Orlando Resorts
Each villa is very high specification. Almost all homes have pools and lovely pool decks. Some homes (not so many at Reunion) have insect protection netting outside. There will be a starter pack in the home when you arrive but you will need to shop. There might be an option for us to do your shopping for you so please speak to us about this service well before your arrival.
Pools are dangerous for young children so all our pools have a safety fence or an alarm on the back door. Please supervise Children when they are outside the home. The homes are safe but Florida law ensures they are safer.